Rams vs. Eagles Preview and Free Pick
December 8, 2017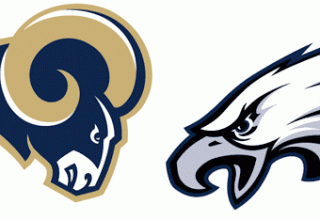 According to our free live odds service SBAodds.com, The Rams are 2 point favorites at home to the visiting Eagles. The total (Over/Under) is 48 points. What we have here is the marquee matchup of the afternoon really. These are two playoff teams and each is vying to represent the NFC in the Super Bowl.
Both teams are very equal when it comes to stats. The Rams are 9-3 straight up. The Eagles are 10-2 SU. Against the spread the Rams are 8-4 and the Eagles are 9-3. Both teams average about 30 points of offense and allow about 18 points on defense. All of the offensive and defensive numbers even out in every category except one. The Eagles are a very stingy run defense. They allow a league leading 68 yards per game rushing. The Rams are more of a passing team but do rely on the run to balance the offense to the tune of 117 yards per game.
What We've Got Here
This Segment of the article is where I sum up the matchup (engage your imagination now) in the voice of the warden from the movie "Cool Hand Luke", like he probably would, using just a sentence or two. If you don't know the reference, rent it on Amazon.
What we've got here is two up and coming teams with two very good young QB's. Philadelphia is 8-1 ATS in its last 9 games. The LA Rams are 6-1 ATS in its last 7 games. Something's got to give right!? right?!?!
How It's Going to Play Out (The Part You're Looking For)
Ok, here is how I see it: Stifling defense from Philadelphia will cause the Rams to fail converting some third downs in the first quarter. The Rams will start passing more and make some mistakes as a result of feeling one dimensional.
The Eagles will have moderate success rushing and passing the ball. The game will be close. A fourth quarter score puts the Eagles ahead and they win outright. The total stays UNDER the 48 points because of the punts and turnovers.