AFC Championship Game Free Pick Patriots vs. Jaguars
January 19, 2018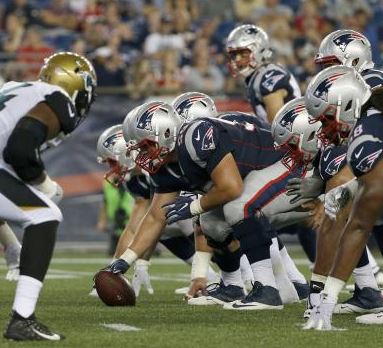 Sunday January 21, 2018 the AFC Championship Game will be played at Foxborough Massachusetts at 3:05 pm EST. The Jacksonville Jaguars are visiting the New England Patriots. The Patriots are favored by 7.5 points and the betting total (Over/Under) is 46.5
The spread has worked its way up to 9.5 (from 8.5 opening) and now all the way down to 7.5. Apparently some sharp money has already rolled in on both sides but sportsbooks are expecting a last-minute Jacksonville surge. Maybe the public will be betting with their hopes instead of who they actually think will win and cover.
Our initial lean here early was Jacksonville +9.5 and we figured if you could buy a point and make them +10.5 then all the better. But now is the time for actual numbers handicapping. And we will issue our official pick for the AFC Championship Game 2018.
Jacksonville is 12-6 straight up and 10-8 ATS. New England is 14-3 and 12-5 ATS. Jacksonville scores an average of 26 points per game on offense. They allow 17 points per game. New England scores 29 and allows 18. New England is 6-3 ATS at home and Jacksonville is 5-4 ATS on the road.
Head to Head
Jacksonville has been owned by New England the last ten times they have played. The Patriots are 9-1 straight up and 7-3 ATS. The last time Jax played New England was early in the season, two season ago. The Patriots destroyed the Jags 51-17. But that was then, this is now. The Jags are definitely not the same team they were then. New England basically is however.
New England allows 117 yards per game rushing per game, a fact that Jacksonville plans on exploiting. The Jags average 143 rushing yards on offense per contest and you will probably see a lot of rushing attempts. At least you will early on. If the Jags cannot get it going early and fall behind you will see them try their hand with Bortles in the air.
You can already guess what New England's game plan will be. They plan to run then pass and pass some more. Basically any success they have on the ground always sets up the passing game. And why not? You have Tom Brady, Gronkowski, and a cast of really talented receivers. But Jacksonville's secondary is one of the best in league and allows only 188 yards per game.
New England's defense really isn't that great. They are good but not great. It is true they only allow 18 PPG and keep teams from scoring when it counts but you can torch them deep. They allow 359 yards per game. There is definitely some room for Jacksonville to operate. The big question is will the upstart Jags be able to operate in a hostile and a very cold environment (again) on the biggest stage of the young players' careers?
How I See it Playing Out
Jacksonville strikes first with a FG. The Patriots have some trouble dealing with the Jags amped up defense. The Patriots only manage one score in the first half. The Jaguars lead at halftime. The second half will see more scoring and NE will catch up and tie it. A last score will win the game and may even be in overtime. So, based on this prognostication you have four picks here. Jax +4 (First Half), Under 23 (First Half), Jax +7.5 (Game) and Under 46.5 (Game). Most online sportsbooks will have first half lines. I am not a big fan of betting half lines but for the big games, when you have all week to analyze it, then it is acceptable to me.