Most Popular Sports Betting Apps in UK
February 23, 2018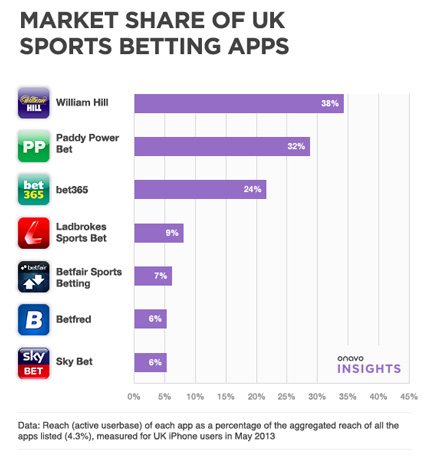 In the UK, waking up, making your coffee/tea and researching games to bet is a normal way of life for many people. The English love their sport. Betting on sports and using bet taking services is a normal way of life for many Brits. A recent survey shows which betting apps are most popular on the big island.
You will recognize many of these company names no matter where you live as many of them are international. click here to see enlarged image. All of them are also rated on the SBA sportsbook rating guide: William Hill (Rated A), Paddy Power (Rated A), Bet365 (Rated B), Ladbrokes (Rated B+), Betfair (Rated B+), BetFred (Rated C+), and SkyBet (Rated A-).
The report by Onavo mobile data company showed that 4.3% of all iphone users used a betting app. Ad that 3/4 of them had more than one betting app on their phone. It is always a good idea to shop for better lines and better features.
William Hill, Paddy Power and Bet365 are by far the most popular betting apps in the UK. The next four in line combined can't match the market share of a single one of those first three companies mentioned. The average user checks his/her app four times per week.
Other Apps ranking on the lower end of the list include Unibet, Betway and 888. The most popular sports bet in the UK are Football (Soccer), Rugby and Cricket.
UK sportsbooks are fully licensed and regulated and the regulations are taken very seriously. As proof see the most recent penalty handed out by the Gambling Commission.
Footnotes:
image provided by Bettapps.org
Further information gathered by Cardschat