World Cup Free Pick: Brazil vs Mexico
July 1, 2018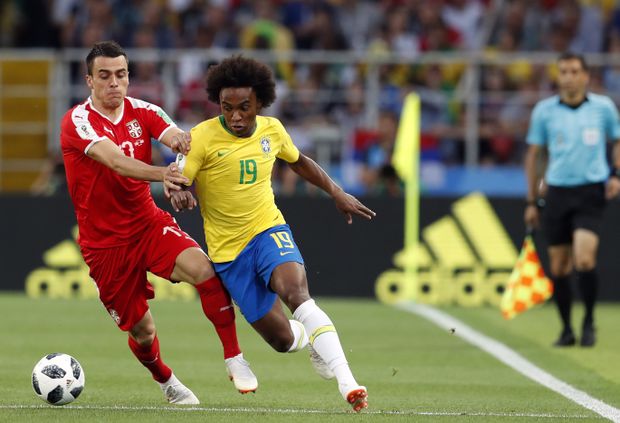 Since the end of the 2014 World Cup, Brazil has been on a mission to make up for their disappointing showing at home.
On Monday, the Brazilians will play Mexico in the Round of 16 after winning Group E in the group stages. The current line by odds makers has Brazil favored at 1 to 2, Mexico 12 to 2 and a draw 7 to 2.
Brazil drew with Switzerland 1-1 to start the Cup followed by a 2-0 defeat of Costa Rica and in the final group stage match, a 2-0 win over Serbia.
Mexico began play in Group F with two strong victories including an opening match 1-0 win over Germany, the 2014 World Cup defending champions. The Mexicans followed that with a 2-1 win over South Korea and then were embarrassed by Sweden 3-0.
Brazil and Mexico have played four previous times in World Cup play and Brazil has yet to concede any goals to Mexico outscoring them by a combined 11-0, which included three wins and one draw for the Brazilians.
Brazil has reached the quarterfinals or better in six straight World Cups. In that stretch Brazil has reached the final three times and won the Cup twice.
Mexico has been knocked out in the second round of the World Cup in each of the last six World Cups. They were knocked out most recently in 2014 by the Netherlands after leading by one goal with two minutes to play only to lose 2-1 during stoppage time.
Mexico must find an answer to why they allowed Sweden to score three times in one half, as they will be facing the likes of Neymar, Phillipe Coutinho and a host of other goal scorers for Brazil.
Although Neymar has shown flashes of his talent he has been focused on by opponents with physical play taking a toll on the Brazilian, as defenders and midfielders alike have pushed and shoved the Brazilian star in each of Brazil's first three matches.
Brazil could replace Gabriel Jesus up front with Roberto Firmino. Jesus has been ineffective for the most part and Firmino played well this past campaign in England with Liverpool scoring 15 goals in the EPL while adding another 10 during Champions League play.
Brazil is likely to be without Marcelo who hurt his back at the start of Brazil's victory over Serbia and left the match. He is listed as doubtful for Monday.
Mexico will have Javier Hernandez out front taking most of the attention of the back line of Brazil, but will have the help of youngster Hirving Lozano and veteran Carlos Vela.
Prediction: Look for Brazil to start aggressively on offense and attempt to take the lead within the first 15 minutes of play. If the Brazilians are successful, it could be a long match for Mexico. If not. Mexico could find ways to give Brazil problems. In the end, Brazil's superior talent will win out. Brazil 2-0