World Cup Free Pick: France vs Uruguay
July 5, 2018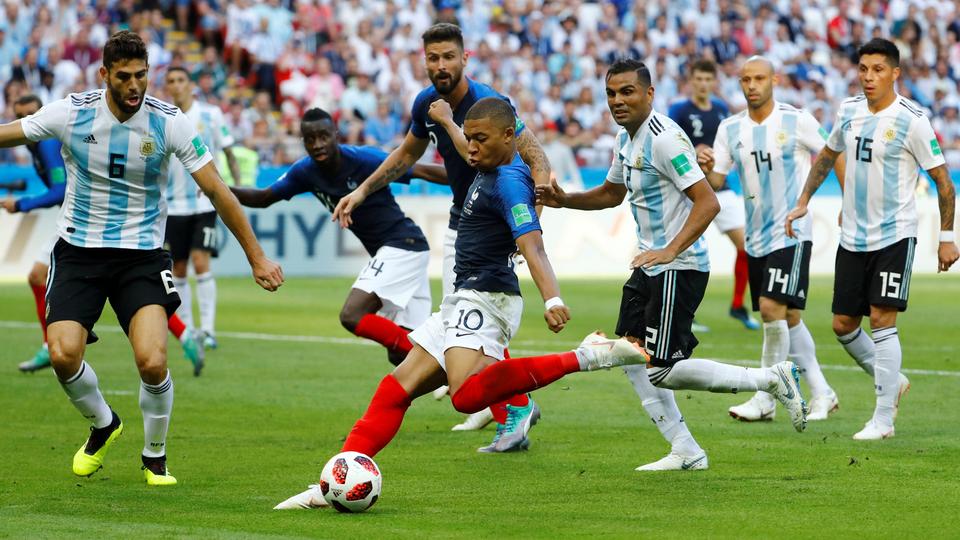 The 2018 World Cup quarterfinals kick off July 6 when France meets Uruguay at Nizhny Novgorod Stadium. The match will feature the attacking of France's Kylian Mbappe, Antoine Griezmann and the strong midfield play of Paul Pogba versus the tough play of Luis Suarez, Jose Gimenez and Diego Godin. The winner moves on to a semifinal matchup against either Belgium or Brazil.
The current line by odds makers has France at even money, Uruguay 7 to 2 and a draw 9 to 4.
France was unconvincing in its three group stage matches winning two and drawing one, but its 4-3 win over Argentina in the last 16 proved just how talented the squad is. Mbappe, who is just 19, has been France's bright spot with three goals, while Griezmann has two.
Pogba played his best match against Argentina as he controlled midfield and was the transitional force between the back line and the attackers.
Defensively, the midfield play of Pogba, Blaise Matuidi and N'Golo Kante was superb, but Matuidi will miss due to his second yellow card picked up against Argentina.
Uruguay gave up its first goal of the tournament in its 2-1 victory over Portugal in the round of 16. Godin has been rock solid in the back for the South American squad and together with Gimenez, his teammate at Atletico Madrid, has been nothing short of superb.
However, the young midfield of Uruguay will be tested. Lucas Torreira, who is 22, anchors the midfield and Matias Vecino must have a strong match to fight of the forays forward France will bring.
Up front it will be up to Suarez and Rodrigo Bentancur. Suarez has two goals and an assist. The big concern on the offensive end is the uncertainly over the fitness of Edinson Cavani who is fighting a calf ailment. He scored both goals for Uruguay before going off injured during the second half against Portugal.
Prediction: This match will be intense for the full 90 minutes of regulation and into extra time. France showed it offensive prowess against Argentina, but Uruguay has won four straight matches. However, the injury to Cavani is one that will hurt the Uruguay offense. France will focus more on Suarez and force Bentancur to beat them. The French will also take advantage of the young midfield of Uruguay and the lack of Cavani's presence up front. France wins in extra time 2-1.