MLB Free Pick: Mets vs Yankees
July 22, 2018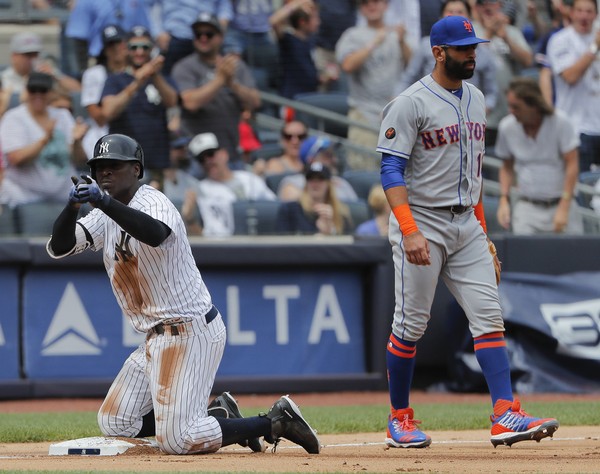 Through the first two games since the All-Star break the New York Yankees have combined for 26 hits but have only won one of the two games after defeating the New York Mets on Saturday 7-6. The Yankees lost the opening game of the series and look to win the Subway Series on Sunday against their cross-town rivals.
The current line has the Yankees as a -160 favorite, with the Mets at +144 and the run total on 8. The Yankees have the third shortest odds to win the World Series this season.
The Yankees left 14 runners stranded on base in Friday's loss, but came through with enough hits at the right time to win on Saturday even though their closer Aroldis Chapman suffered a poor outing in the ninth inning.
The Yankees scored four runs in the fourth helped by an RBI triple from Didi Gregorius and Aaron Judge hit his 26th homer in the seventh for the Yankees. Judge in the first two games of the series has six hits and two runs scored.
The Mets rested Yoenis Cespedes on Saturday after he homered in his first game back from the disabled list on Friday. Mets outfielder Michael Conforto has seven RBIs over the past five games.
The Mets sent right-handed closer Jeurys Familia to the Oakland Athletics on Saturday in exchange for a pair of minor league prospects third baseman William Toffey and right-handed pitcher Bobby Wahl along with international pool money.
The visiting Mets will have Jacob deGrom starting on the mound Sunday. The right-hander is 5-4 with a 1.68 ERA. deGrom has gone 1-4 with a 3.67 ERA during his career against the Yankees. The right-hander has the lowest ERA in the majors and did not allow any runs in his last outing. He did not get a decision in that outing despite allowing just five hits to the Phillies, with seven strikeouts and one walk in a 3-0 victory July 11. deGrom lost to the Yankees June 8 after allowing two earned runs in eight innings, but did not get any offensive helps as the Mets lost 4-1.
The Yankees will start Masahiro Tanaka on Sunday. The right-hander is 7-2 with a 4.54 ERA. Tanaka returned from the Yankees DL on July 10 and lasted just 4 1/3 innings before being lifted against the Baltimore Orioles. However, in his second start after the DL against Cleveland, Tanaka gave up just two runs in 6 1/3 innings without getting the decision. In four games in his career versus the Mets, Tanaka has a 3.08 ERA.
Prediction: The Yankees have hit Mets pitching well this series but face an uphill battle against deGrom. Nevertheless, look for a Yankees win in low scoring games as Tanaka will shut the Mets bats down as well. Yankees win 4-2.