Pac-12 Football: Washington Huskies Favored to Win Conference Title
July 26, 2018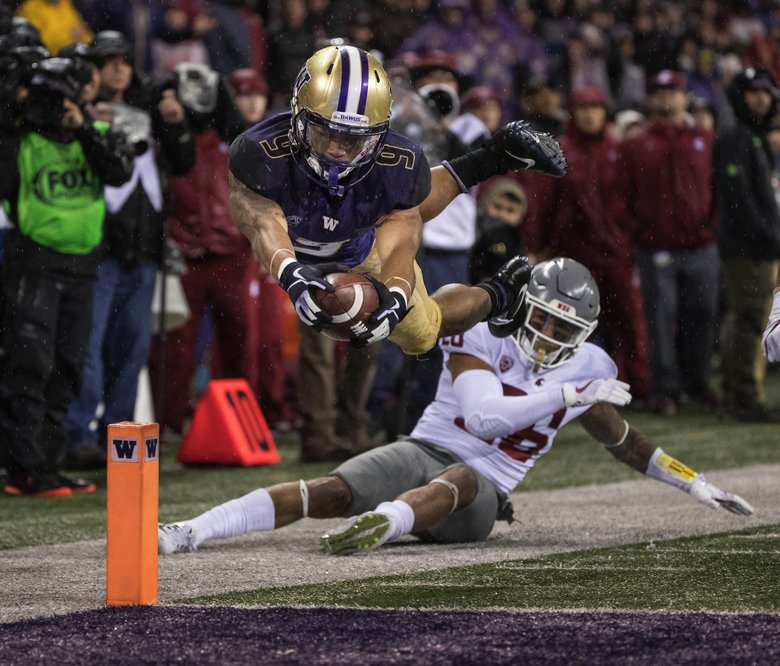 The Pac-12 often is overlooked in college football as many games are played late Saturday after national television broadcasts have been completed. However, the conference will have one on the national stage when it comes time for the College Football Playoff selection committee to choose its "final four."
Four different football programs have won the Pac-12 championships the last four seasons. That makes predicting a winner difficult to accomplish. This season odds makers agree the favorite to win is the Washington Huskies at +140 on futures boards. The biggest reason for that is the strength of the Huskies backfield on both sides of the ball.
Jake Browning returns as quarterback for his senior season with the Huskies, In 2016, Browning was considered a Heisman Trophy candidate his sophomore season, but last season his play did not put him on a par with other contenders as he threw for the fewest yards in his three seasons with the Huskies and his passing and rushing touchdowns dropped dramatically.
Myles Gaskin returns to anchor the Huskies rushing attack. Gaskin rushed for 1380 yards last season and had 232 yards receiving out of the backfield. He scored 21 touchdowns on the ground and 3 through the air.
The receiving corps is still uncertain. Dante Pettis is now in the NFL, and no other wide out has stood from the group of receivers on the Huskies roster. Last season behind Pettis, tight end Hunter Bryant caught second highest number of passes and gained just 331 yards.
The Huskies however, have most of their defense returning and that unit was No. 1 in the conference in 2017. Vita Vea will be difficult to replace on the defensive line, but there is plenty of depth in the front seven to make up for his loss. The biggest key to the defense will be the secondary. The group was young last season, but could be one of the strongest in the Pac-12 in 2018.
In the south, USC must replace the departed Sam Darnold under center as well as running back Ronald Jones and top receiver Deontay Burnett. Jack Sears and Matt Fink are the frontrunners to start under center, but J.T. Daniels, who just graduated from high school, could be a true freshman starter this fall. Daniels will be behind Fink, last year's backup and Sears, a conventional drop back passer when fall practice begins, but has the most potential of the three to lead the offense.
USC has the Pac-12's second best odds to win the title but with new players starting at the three most important skills positions on the offense, the Trojans could have a slow start and not have time to catch up in November.
Top 5 Best Odds to Win 2018 Pac-12 Title
Washington Huskies +140
USC Trojans +500
Stanford Cardinal +500
Oregon Ducks +750
Washington State Cougars +1400