Tom Brady and Drew Brees Co-Favorites to Lead NFL in Passing
August 10, 2018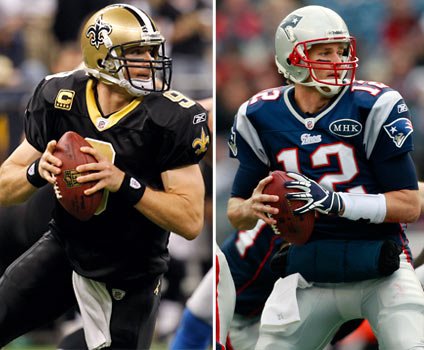 A full slate of NFL games kicked off the 2018 preseason on Thursday. That means the regular season is less than one month away as NFL bettors peruse their reams of data trying to determine what NFL quarterback will throw for the most yards in 2018.
The NFL has become a pass first run second league the last decade and do not expect anything different when the regular season kicks off on Thursday September 6. That makes betting on what quarterback will lead the league in passing yards a very popular futures bet for NFL bettors.
Odds makers have two veteran quarterbacks at the top of the list. New England's Tom Brady and New Orleans' Drew Brees are 4 to 1 co-favorites to pass for the most yards. The two are followed by Philip Rivers at 7 to 1, with Aaron Rodgers and Ben Roethlisberger at 10 to 1 to round out the top five.
There is no surprise when it comes to odds makers putting Brady at the head of the list. Last season the Patriots quarterback threw for 4,576 yards.
Brees is no surprise pick either since the Saints quarterback has finished amongst the top three in passing yards each season dating back to 2010. Brees led the NFL in passing yards for four straight seasons until Brady ended that streak last season by leading the league.
However, bettors may be better off fading Brees. The Saints offense has started to become more balanced between rushing and passing thanks to a strong backfield of Mark Ingram and Alvin Kamara. Both backs are equally talented in running the ball or catching it out of the backfield, but each rush they make is one less down Brees has to add to his passing total.
In addition, the Saints are by no means a powerhouse on defense, but there has been dramatic improvement on that side of the ball, which does not mean Brees has to put his offense in a straight passing mode to catch up or maintain pace with the opposition.
When it comes to Brady, his age is the biggest factor that could hinder him in leading the league in passing yards. He became the first NFL signal caller to lead the league in passing yards over the age of 40 last season, but he may pass less this season with the addition of rookie running back Sony Michel.
Top 10 Odds for NFL Passing Yards Leader
Drew Brees 4 to 1
Tom Brady 4 to 1
Philip Rivers 7 to 1
Aaron Rodgers 10 to 1
Ben Roethlisberger 10 to 1
Matt Ryan 12 to 1
Matthew Stafford 12 to 1
Jimmy Garoppolo 14 to 1
Jared Goff 18 to 1
Kirk Cousins 20 to 1