2018 Heisman Trophy Futures: Stanford's Bryce Love Tops the List
August 19, 2018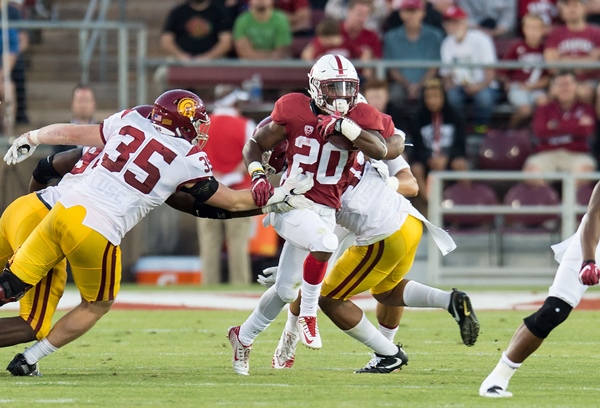 The 2018 college football regular season will officially kick off in less than a week which means the race for the Heisman Trophy will begin. Just once since 2010 has a running back won the coveted trophy but the favorite heading into the start of the season is running back Bryce Love (+650)of the Stanford Cardinal.
Last season Love finished second in the Heisman Trophy voting after rushing for 2,118 yards and 19 touchdowns and opted to return to complete his senior season with the Cardinal. The offense for Stanford is run first and often and Love should see get more than his share of opportunities to excel.
The list of top contenders also includes Alabama quarterback Tua Tagovailoa (+725). He has little experience but his play during the College Football Playoff championship game rallying Alabama to the national title put him in the spotlight. However, he first needs to win the No. 1 quarterback job from Jalen Hurts.
Wisconsin's Jonathan Taylor (+750) is in a similar situation as Love. The Badgers running back plays for an offense that is run-heavy and last season as just a freshman rushed for 1,977 yards and 13 touchdowns. The Badgers are expected to contend for the Big Ten title this season and the rushing of Taylor will be a big part of that push.
The fourth best odds belong to dual-threat quarterback Khalil Tate (+1250) at Arizona. Tate is an excellent rusher and can pass the ball exceptionally well. He must help the Wildcats put up wins early on the board to start gaining the attention of Heisman voters.
A bit further down the list is the quarterback replacing Baker Mayfield at Oklahoma Kyler Murray (+2200). Murray is a baseball talent as well having been drafted by the Oakland Athletics but was allowed to return to play at the school for one season. If he is able to put up big numbers, his stock could skyrocket and his odds shorten very quickly.
Quarterbacks gain most of the attention of voters and another possible is Missouri signal caller Drew Lock (+2650). Last season Lock threw for 3,965 yards, 44 touchdowns and 13 interceptions. If the Tigers can gain attention in the SEC West behind the arm of Lock, then he too could quickly move up the list of contenders.
2018 Top 10 Heisman Trophy Futures
Bryce Love, Stanford +650
Tua Tagovailoa, Alabama +725
Jonathan Taylor, Wisconsin +750
Khalil Tate, Arizona +1250
Justin Herbert, Oregon +1350
Will Grier, West Virginia +1500
J.K. Dobbins, Ohio State +1600
Shea Patterson, Michigan +1650
Dwayne Haskins, Ohio State +1750
Jake Fromm, Georgia +1900