Public Bettors Supporting 2018 Cleveland Browns
August 23, 2018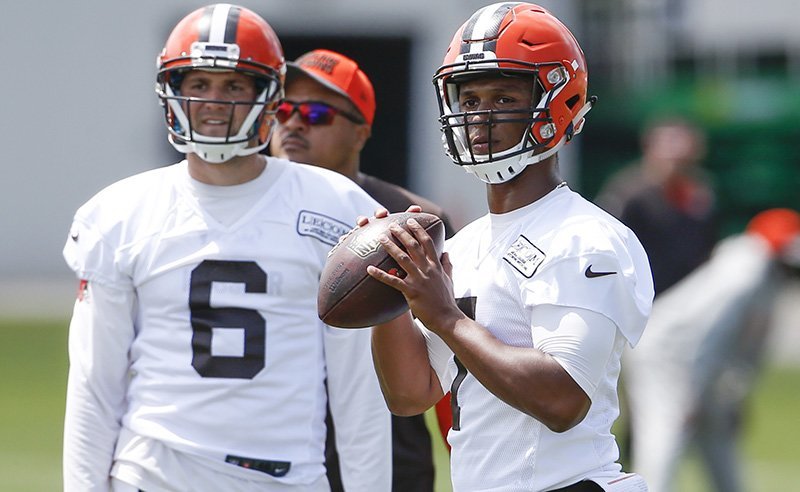 Over the last two years the betting public has shied away from betting on the NFL's Cleveland Browns. However, this offseason betting action has been strong on the Browns.
Several sportsbooks have reported that sports bettors are backing Cleveland to win both the AFC North and the AFC championship and even Super Bowl LIII.
One sportsbook manager said the Browns have more bets to win their division than all of the three other teams in the AFC North combined. The Steelers and Raiders are the only two AFC teams with more bets to win the conference than the Browns.
Other sportsbooks report that the Browns have had more bets on being Super Bowl champions than do the Jacksonville Jaguars, Kansas City Chiefs and Atlanta Falcons and all three of those teams reached the postseason last season. The majority of books have the Browns at 60 to 1 to win Super Bowl LIII.
This has come as a big surprise to many since the Browns have won just one game during the last two seasons and last season finished 0-16.
Cleveland opened with a 5.5 win total on most sportsbooks but several have reported the Browns have been bet up and are on 6 wins at this point.
Cleveland is currently 7 to 1 to win the AFC North and is available at 20 to 1 to win the AFC title.
During the last two seasons, point spreads have been pushed up by sportsbooks in an attempt to entice the public bettor into laying more money on the Browns. However, each week many books said they found they needed the Browns as the inflated lines attracted sharp money that was placed on Cleveland.
That is expected to change this season as many sportsbooks are now anticipating sharp money to be placed against Cleveland and more public bettors taking the Browns. Much of it has to do with their off-season moves and The Hard Knocks Effect. In sports betting, The Hard Knocks Effect is when the people watching that show get familiar with the team and by the end, see the team coming together, then expect that to translate into a good season. They end up betting the team the first few weeks because of this. However, they should be aware of the REAL Hard Knocks Effect, a phenomenon similar to The Madden Curse.
Cleveland has made several roster changes during the off-season. The Browns added signal caller Tyrod Taylor, veteran Carlos Hyde at running back and wide out Jarvis Landry. Baker Mayfield was taken as the No. 1 pick in the draft by the Browns as their quarterback of the future.
On Thursday, the Philadelphia Eagles visit the Browns in a preseason Week 3 matchup. Cleveland has been listed as 4-point chalk over the reigning Super Bowl champions. Click here to see a list of reputable online sportsbooks.