CFB Week 1: Favorites Dominate Straight Up but Dogs Cover
September 3, 2018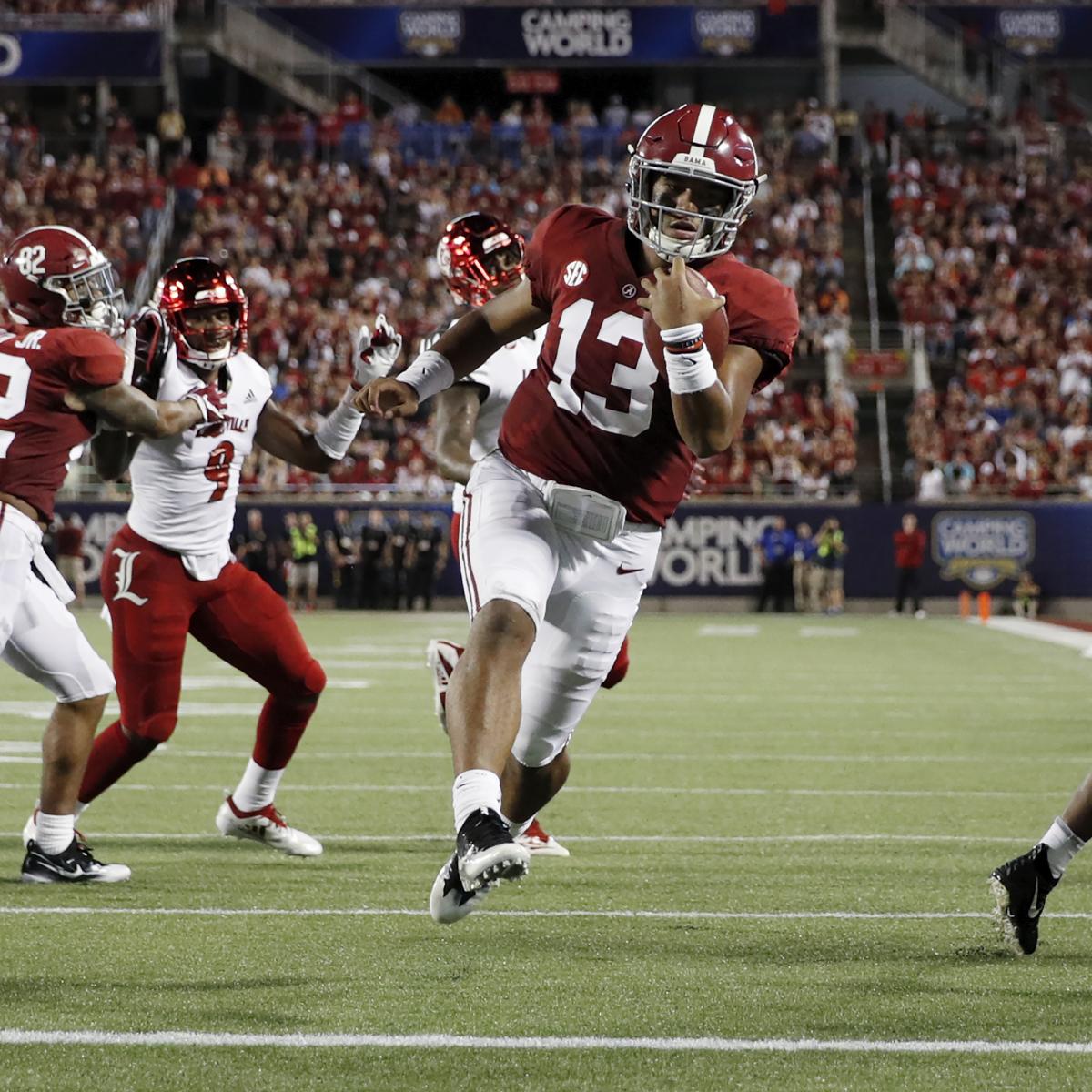 Just the Monday ACC matchup between FSU and Virginia Tech remains to close out Week 1 of the 2018 college football regular season. Here is a quick rundown of the numbers.
Favorites ended the week 70-14 straight up and 39-42-3 against the spread. Home teams were 60-18 SU and 38-37-3 ATS. The OVER/UNDER was 47-44-4. In games between FBS and FCS, the FBS was 41-5 SU and 21-24-1 ATS.
The biggest dogs that won outright were Cincinnati +14.5 over UCLA 26-17, Hawaii +13.5 over Temple 19-17 and Maryland +13 over Texas 34-29.
The biggest favorites that covered were Toledo -48.5 over Virginia Military 66-3, Texas A&M -47 over Northwestern State 59-7 and Florida -43 over Charleston Southern 53-6.
Bits and Pieces from the Top 25
No. 1 ranked Alabama will remain atop the polls as the Crimson Tide easily beat Louisville 51-14 to cover a 23.5-point spread.
Some worried that Ohio State would be distracted from the suspension of Urban Meyer, but that was not the case as the Buckeyes easily won 77-31 to cover a 40-point spread.
Penn State needed overtime to beat Appalachian State 45-38 but the Mountaineers easily covered the number as 24.5-point dogs.
Saturday evening's game between Auburn and Washington was an excellent matchup when looking at statistics and personnel and ended up being one of the weekend's best games. Auburn won in the end 21-16 and likely gave a big blow to the Huskies hopes of reaching the College Football Playoff.
Notre Dame raced out to a 21-3 halftime lead over Michigan, only to hang on in the end to win 24-17. The loss was Michigan's 17th consecutive against a ranked opponent on the road.
Scott Frost's era as head coach of Nebraska was scheduled to start Saturday, with the Cornhuskers opening up against Akron, but that game was called off due to foul weather as was the game where Iowa was scheduled to host South Dakota State.
Oklahoma took on Florida Atlantic and the Sooners at one point were ahead 56-0 at which time FAU scored twice with the game ending 63-14. Fellow Big 12 member Kansas was not as fortunate as the Sooners. The Jayhawks were upset by Nicholls State 26-23.
Sunday night the LSU Tigers looked strong winning their opener over Miami 33-17.