College Football Free Pick: TCU vs Texas
September 22, 2018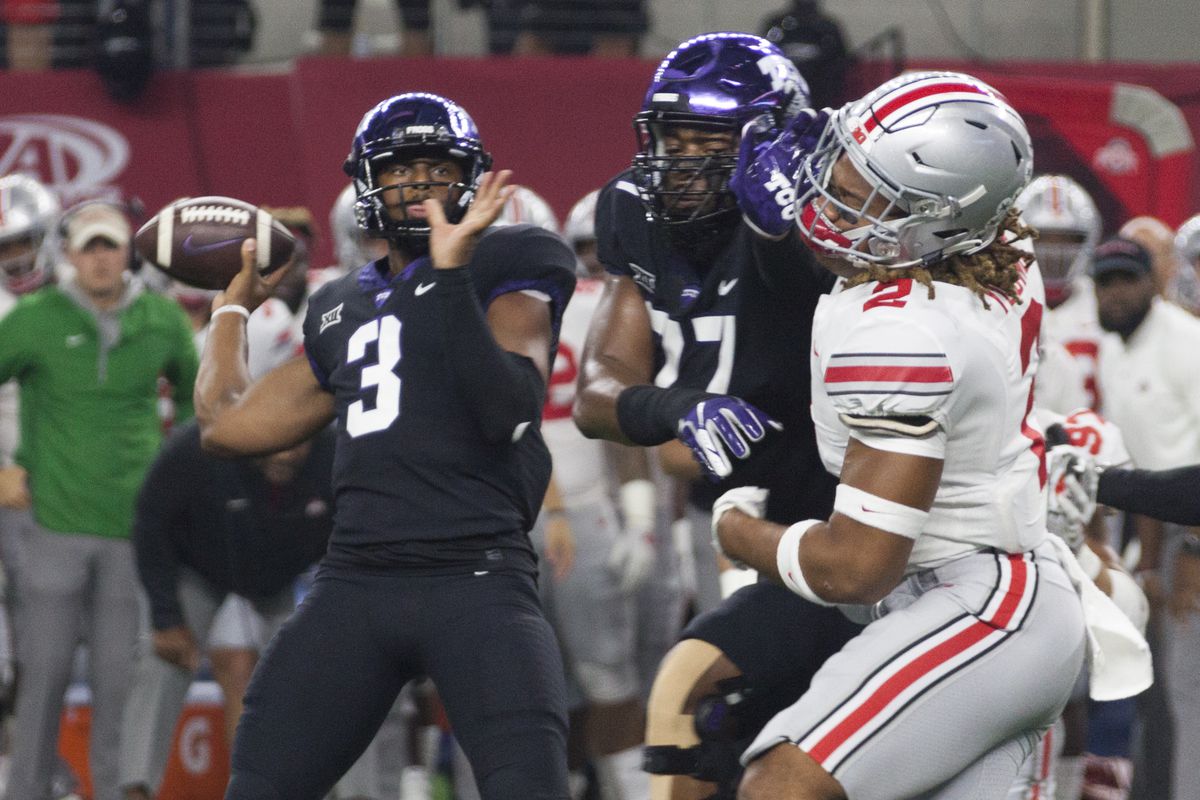 TCU took it on the chin last week against a team from the top 10 and the Horned Frogs' schedule does not get any easier this week. No. 17 ranked TCU will open its Big 12 schedule with a visit to the Texas Longhorns.
The current line on top sportsbooks has TCU favored by 3 points with the over/under point total on 48.
TCU easily defeated Southern followed by SMU outscoring the two 97-19 the first two weeks of the season but was defeated last week by No. 4 ranked Ohio State 40-28.
Texas started its season slow losing its opener to Maryland followed by a tough win over Tulsa, but last week the Longhorns easily defeated USC 37-14.
TCU quarterback Shawn Robinson threw two interceptions in the loss to Ohio State. Robinson told reporters the offense had to execute each play against every opponent but fell short of that with many plays against Ohio State not being executed well.
Robinson's 308 yards passing against the Buckeyes is a season high thus far, but his seven yards rushing in the loss is a season-low.
Darius Anderson leads TCU in rushing with 259 yards and a pair of touchdowns, while the top receiver Jalen Reagor who has caught 14 passes for 188 yards and one score.
Texas quarterback Sam Ehlinger connected on 15 of his 33 passes against USC, with two touchdowns, while rushing for another.
Tre Watson leads all Longhorns rushers with 198 yards on the ground averaging 4.1 yards per carry. Top Ehlinger target wide receiver Lil'Jordan Humphrey has 17 receptions for 275 yards and two touchdowns to lead the Texas receivers.
Texas linebacker Gary Johnson forced one fumble, produced one quarterback sack and made four tackles behind the line of scrimmage in the win over USC. For his efforts, Johnson was named the defensive player of the week in the Big 12.
Longhorns linebacker Malcolm Roach fractured his foot and will miss a much as two months.
TCU has won each of the last four head to head encounters with Texas with an averaging winning margin of 30 points.
Prediction: Although TCU stubbed its foot last week in its 12-point loss to Ohio State, the Horned Frogs are stronger on both sides of the ball than is Texas. The game will feature Robinson and Ehlinger marching their respective teams up and down the field, but TCU will wear down the Longhorns defense late in the game when it counts. TCU wins 28-21