Heisman Trophy Race Tightening after Week 5
October 2, 2018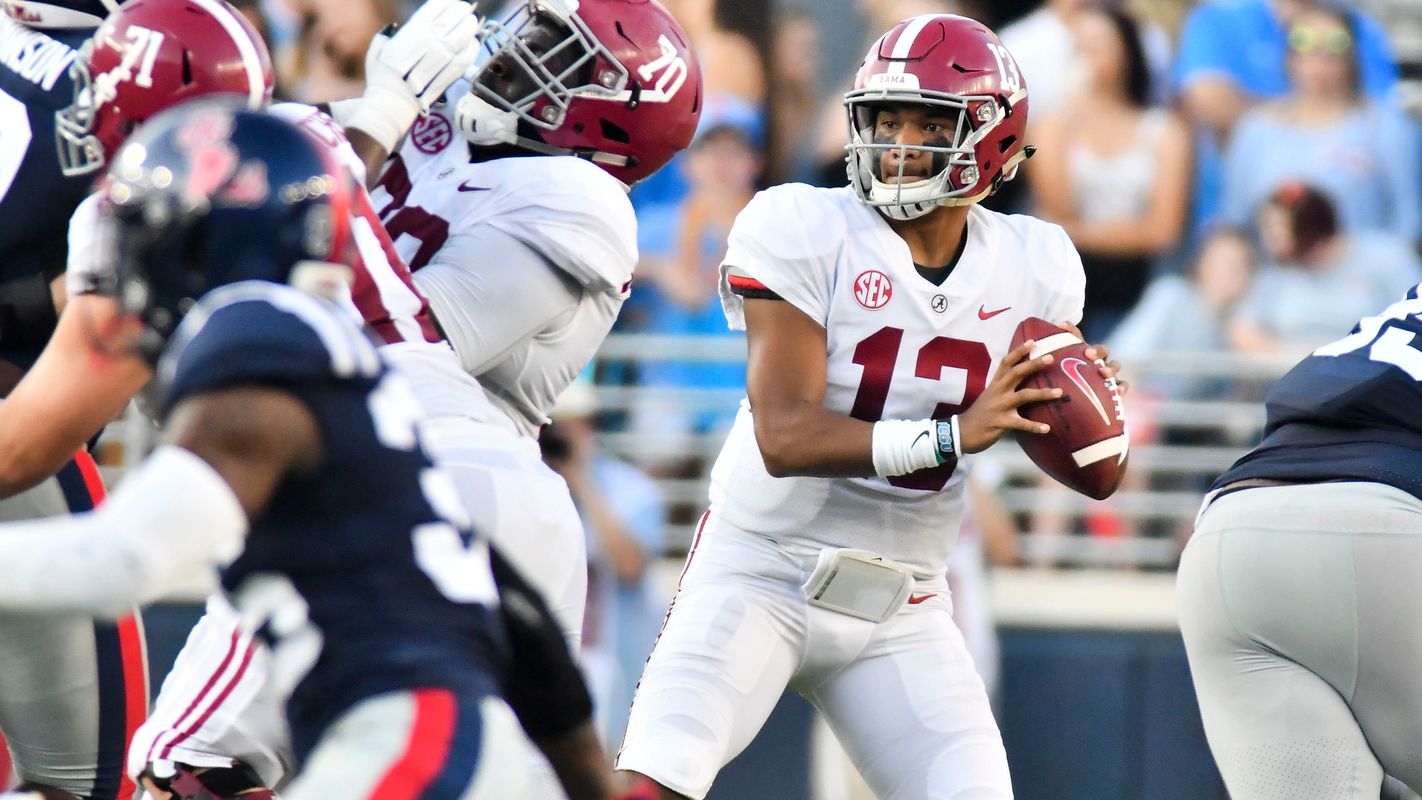 As college football enters Week 6 of the regular season, the race for the Heisman Trophy is becoming a bit tighter after favorite Tua Tagovailoa from Alabama did not do anything to hurt his odds to win although his play was not as spectacular as his pursuers. The top players on the list have changed somewhat from the first few weeks of the season.
However, Ohio State quarterback Dwayne Haskins helped his chances by guiding the Buckeyes to an exciting comeback victory over Big Ten rival Penn State.
Yet, the player whose stock rose the most in Week 5 was West Virginia Mountaineers quarterback Will Grier. West Virginia played impressively in a win on the road against Texas Tech and proved the Mountaineers are legitimate title contenders in the Big 12.
Let's not forget Oklahoma Sooners quarterback Kyler Murray especially after his spectacular play in the Sooners win Saturday over Baylor.
With current odds of 3 to 5 to win the coveted Heisman Trophy, Tagovailoa remains the favorite. In his team's 56-14 rout of Louisiana, the Alabama quarterback completed each of his eight passes for 128 yards and a pair of touchdowns. Tua's quarterback rating is an unheard of 238.2 with a touchdown/interception ratio of 14/0.
Ohio State's Dwayne Haskins (4 to 1) came up big in his Heisman test against Penn State last Saturday rallying the Buckeyes from a 13-0 deficit to a 27-26 victory. Haskins passed for 270 yards completing 22 of 39 passes and three touchdowns.
Oklahoma star quarterback Kyler Murray (4 to 1) did not start last Saturday due to disciplinary reasons, but came off the bench to complete 17 of his 21 passes for 432 yards and six TDs. Murray also rushed for 45 yards and scored a touchdown on the ground. Murray's quarterback rating is almost as high as Tua's at 230.8. His touchdown/interception rate is 17/2. On Saturday he will be tested for the first time this season against Texas.
Will Grier (4 to 1) has not been in the conversation much when it came to the Heisman, but his performance against Texas Tech changed that. The Mountaineers led by 25 early against the Red Raiders but barely won 42-34, but not through any fault of Grier's.
The West Virginia quarterback threw for 370 yards and three touchdowns. The Mountaineers are now 4-0 and Grier has a QB rating of 200.6 with a touchdown/interception rating of 17/3. Grier's biggest tests will be in November against Texas, Oklahoma State and Oklahoma. You can still bet Heisman winner odds at most top online sportsbooks.