NFL Free Pick: Redskins vs Saints
October 8, 2018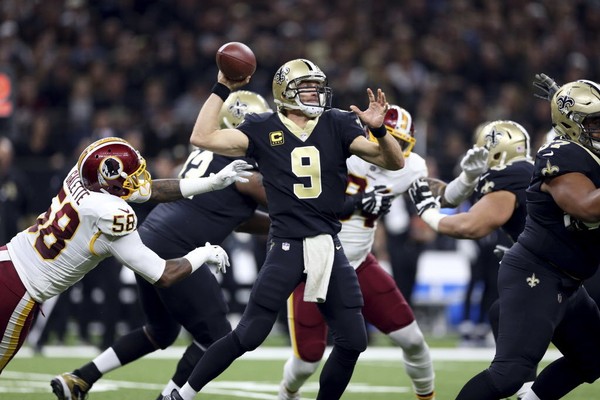 Week 5 of the NFL regular season comes to a close when the Washington Redskins visit the New Orleans Saints on Monday Night Football. The Saints are looking for a fourth straight win and quarterback Drew Brees could become the all-time NFL leader in passing yards by throwing for at least 201 yards.
The current line on top sportsbooks has New Orleans favored by 6.5 with the over/under point total on 52.5.
Brees would pass both Brett Favre and Peyton Manning to move into first place in career yardage and could also join those same two along with Tom Brady with 500 career touchdowns passes if he is able to throw four against the Redskins.
Washington's veteran running back returns to New Orleans where he played four games during last season prior to being traded to the Cardinals. Washington is coming off its bye, but has not had much success on Monday night of late, losing five straight and 13 of its last 15.
Washington defeated the Green Bay Packers 31-17 in Week 3 prior to its Week 4 bye. Peterson rushed for 120 yards and two touchdowns, while quarterback Alex Smith threw a pair of touchdown passes.
Washington has shown little success in its vertical passing game as the leading receiver is running back Chris Thompson with 20 receptions, while Jordan Reed, the talented tight end, is second with just 14.
Defensively, the Redskins are No. 2 in points allowed at 14.7 and No. 3 in passing yards at 187.3 and total yards at 278.
New Orleans will have Mark Ingram return from his four-game suspension to start the season, but it may be difficult finding a place for him in the backfield without affecting Alvin Kamara's production. Kamara rushed for 134 yards with three touchdowns last week in the Saints 33-18 victory over the Giants and has 35 receptions with two games of 100 or more yards receiving.
Brees has thrown eight touchdown passes without an interception this season. Saints wide receiver Michael Thomas leads the NFL in receptions with 42. Brees has 3,461 yards passing with 34 touchdowns and just five interceptions in his last 10 appearances on Monday Night Football
Defensively, the Saints are giving up 311 yards per game through the air.
Prediction: New Orleans has a potent offense that is hard to stop and although its defense has given up chunks in the passing game, the Redskins are not a vertical passing team and will not take advantage of that as other teams would. Take the Saints at home to score big and win 34-24