Two Games Instrumental in Sportsbooks Surviving Week 6
October 16, 2018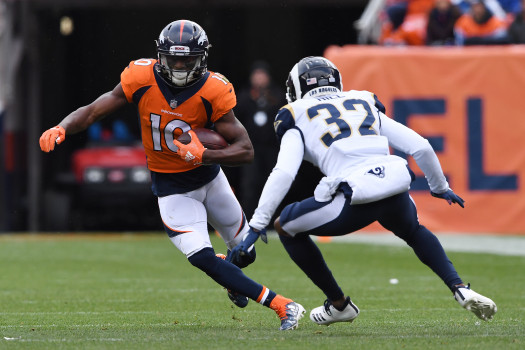 To big games on Sunday helped sportsbooks survive a difficult Week 6 of the NFL regular season. One was Denver (+7) getting its back-door cover against the Los Angeles Rams in the Rams 23-20 victory, which was likely, the biggest. A late Denver touchdown was worth large sums of money to bookmakers.
Most sportsbooks had the most liability on either the Rams game or the Bears and Dolphins game, where Miami won outright as home dogs of between +3 and +6.5 depending upon the time bettors jumped on the Chicago Bears bandwagon due to Miami quarterback Ryan Tannehill's injury.
The Dolphins quarterback was hurt during Miami's loss to Cincinnati in Week 5. Not many sportsbooks and fewer bettors gave much thought that the Dolphins signal caller would not play. The opening number did not have it built in and the Bears remained -3.5 most of the week.
However, news began to leak Saturday that Tannehill's shoulder might be a game-time decision for the Dolphins and the number began to get higher and by Sunday a.m. it was Bears -5 and just before kickoff many books had Bears -7.
Once it became known Tannehill would miss the game all bettors knew Brock Osweiler would start and the overwhelming majority jumped on the Bears bandwagon. Not so quick, said sportsbooks as the Dolphins rallied more than once for a 31-28 overtime win as Osweiler came up huge with 380 yards passing and three touchdowns.
Several sportsbooks went from losing Sunday to slightly winning thanks to the Dolphins win.
The Dallas Cowboys winning 40-7 was big for many books as well. Most bettors like Jacksonville's defense and although the offense has suffered with Blake Bortles and without Leonard Fournette, the vast majority of public bettors like the Jags.
Although most books did very well when the Kansas City Chiefs (+4) covered late Sunday night in a 43-40 loss to New England, they were hit almost as hard on the OVER as the Chiefs and Patriots combined to scored 83 points in a game that closed at 59.5.
While the Chiefs dropped to 5-1 straight up, they remained the only NFL team still a perfect 6-0 against the spread.
The public's best games came early with Atlanta (-3) covering 34-29 at home against Tampa Bay and Pittsburgh (+1) defeating the Cincinnati Bengals 28-21 on a late Antonio Brown touchdown reception.
In all, favorites finished Sunday 6-7 ATS, while four dogs won outright and the OVER was 7-6.