World Series Game 1 Free Pick: Dodgers vs Red Sox
October 23, 2018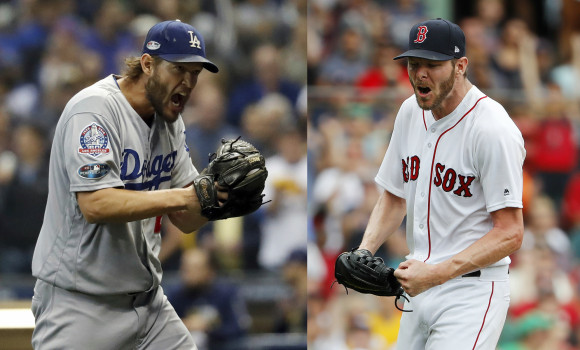 The 2018 World Series opens Tuesday in Boston when the Los Angeles Dodgers visit the Boston Red Sox at Fenway Park for Game 1 of the best of seven series.
The current line on top sportsbooks for Game 1 has Boston favored at -140, Los Angeles +130 and the over/under run total on 7.5.
The Dodgers return for a second straight season to the World Series, while Boston owned the best record in baseball during the regular season with 108 wins. The Red Sox are looking for their fourth title in the last 15 years and the Dodgers their first since 1988.
Both teams will start left-handers on the mound with the Red Sox going with Chris Sale and the Dodgers sending Clayton Kershaw to the hill.
Los Angeles went the distance to beat the Milwaukee Brewers in the National League Championship Series in seven games, while Boston needed just five games to dispose of the Houston Astros in the American League Championship Series.
Kershaw will make his first appearance at Fenway Park. The southpaw is considered the best pitcher of his generation and has won three NL Cy Young awards.
Kershaw has not had his best stuff during this year's postseason and in 28 career appearances during the postseason, with 22 being starts, the left-handers is 9-8 with a 4.08 ERA.
Matt Kemp will play designated hitter for the Dodgers at Fenway Park in Games 1 and 2 and 6 and 7 if the series goes that long.
Boston's Sale has not pitched for 10 days and says he is completely healthy after a stomach problem that caused him to be hospitalized then miss a start during the ALCS. Sale, who is 29, has three starts amongst his five appearances in the postseason during his career. The southpaw is 1-2 with a 5.84 ERA.
Boston right fielder Mookie Betts has been working out at second as the Red Sox look to find a place to put J.D. Martinez in the outfield when the series moves to Los Angeles for Games 3 through 5, as the DH is not used in NL parks.
Prediction: Boston has played far better baseball this season than has Los Angeles, but the World Series is much different than the regular season. Kershaw came up with a huge win in Game 5 of the NLCS and will do the same in Game 1 of the Fall Classic on Tuesday. Dodgers take the opener 4-2.
To place a sports bet online, visit the Internet's top sportsbooks here.