Red Sox and Astros Co-Favorites to Win 2019 World Series
October 30, 2018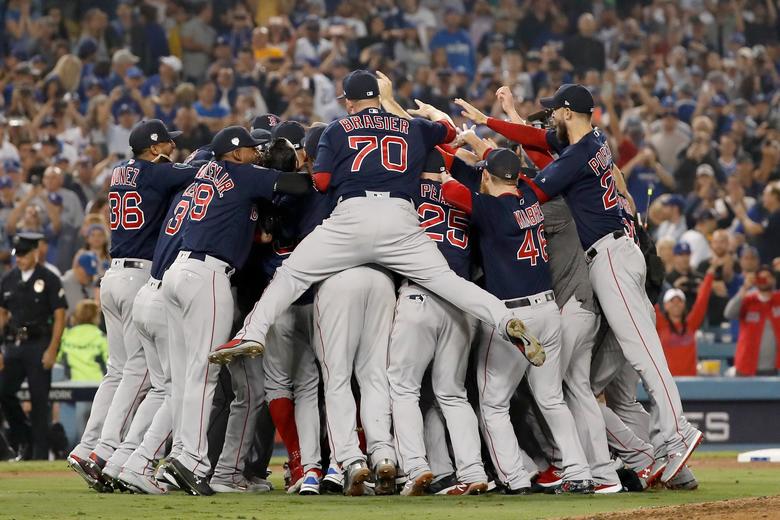 The Boston Red Sox returned to Boston on Monday as 2018 World Series Champions the fourth World Series title in the last 15 years for the Fenway Park faithful.
Odds makers wasted little time releasing odds for the 2019 World Series and have installed the Red Sox and the Houston Astros as the co-favorites to win it all in next year's Fall Classic. Boston began last season with 10 to 1 odds, while the team they beat in the World Series, the Los Angeles Dodgers began the season with odds of 5 to 1 to win it all.
The odds are the odds will change as the offseason progress due to big name free agents likely changing teams and shifting the balance of power within the league.
The Red Sox and Astros have won the last two World Series and both opened at 6 to 1 to win the 2019 Fall Classic. Just behind Boston and Houston are the Los Angeles Dodgers and New York Yankees with both handed odds of 7 to 1.
The Yankees and Dodgers have been talked about as possible teams that Bryce Harper, one of the most sought after free agents, may sign a monstrous contract to play for.
The odds released reflect the likelihood that Harper will not re-sign with the Washington Nationals and end up either with the Dodgers, Yankees, Philadelphia Phillies or Chicago Cubs. The four teams are said to have the best chances of signing the ultra-talented hitter and outfielder.
The Cubs and Cleveland Indians, winners of the American League Central, were next on the futures list released at 10 to 1. Philadelphia is currently a bit down the list at 18 to 1 as odds makers believe even if Harper were to sign for Philadelphia, the team would need to add a top tier pitcher and a few other players to the lineup in order to contend for the World Series title.
The Milwaukee Brewers and Atlanta Braves each have odds of 12 to 1 to win the 2019 World Series followed by the Washington Nationals and St. Louis Cardinals both at 16 to 1.
The Baltimore Orioles finished with the worst record in baseball during the 2018 regular season and odds makers do not see the team improving, as the Orioles were made the league's biggest long shots opening at 300 to 1.
While Harper is considered one of the most sought after free agents during offseason, Manny Machado, who was traded during the season by Baltimore to the Los Angeles Dodgers is also a much sought after free agent and where he signs will also have a big impact on the futures odds for the 2019 World Series.