Rams Remain Favorites to Win Super Bowl LIII Despite First Loss
November 7, 2018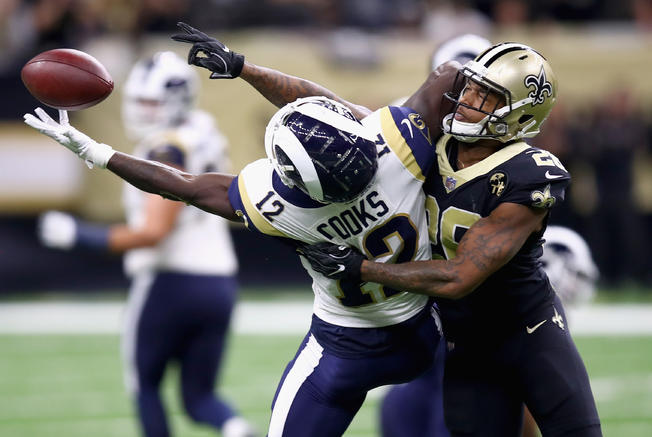 The NFL regular season is entering its tenth week and the playoff picture is beginning to be drawn up. Odds makers have kept the Los Angeles Rams as the favorite to win Super Bowl LIII despite the fact the front runners lost for the first time during Week 9.
In the most recent release of updated Super Bowl LIII odds released this week, the Rams are +350 favorites to lift the Vince Lombardi trophy while the New England Patriots and New Orleans Saints are +500, the Kansas City Chiefs +550 and the Pittsburgh Steelers +1200 to make up the top five.
The Rams were favored over the Saints this past week on the road by 2 points but Drew Brees led the Saints to a 45-35 victory. Nonetheless, the Rams are deserving of remaining the favorites to win with such balance on both sides of the ball, although the Saints offense did a number on the Rams defense Sunday.
Prior to their victory over Los Angeles, the Saints were +650 and are far different from the team that that lost 48-40 to Tampa Bay during Week 1 of the season. Since that loss, the Saints are 7-0. The Saints will play the Cincinnati Bengals in Week 10.
Not all NFL teams are on the rise like New Orleans. The Dallas Cowboys, Green Bay Packers and Washington Redskins each lost during Week 9 and as a result slid down the futures boards for Super Bowl LIII.
Dallas fans were expecting a Monday Night Football victory over the Tennessee Titans, but the Cowboys stumbled and came up short 28-14 after being held scoreless the entire second half. The Cowboys odds dropped to +6600 from +4500 following the loss.
The Green Bay marquee matchup on the road against New England featuring a battle between future Hall of Famers Aaron Rodgers and Tom Brady was won by New England rather easily 31-17.
The Packers are just 3-4-1 on the season and must turn the season around quickly if they hope to reach the playoffs. The Packers odds dropped to +5000 from +3300 following the loss.
Washington was picked to beat the Atlanta Falcons at home Sunday, but were routed 38-14 and saw its odds drop to +5000 from +2800.
The Pittsburgh Steelers appear to have turned their sluggish start around and have begun to make things work offensively without Le'Veon Bell in the lineup.
The Steelers are a half game in front of Baltimore in the AFC North after beating the Ravens in Week 9 for their fourth straight win, helping Pittsburgh move to +1200 from +1800.
To place your Super Bowl futures or any sports bet online, visit the Internet's top sportsbooks.