Record High Total Set for Rams vs Chiefs Game
November 12, 2018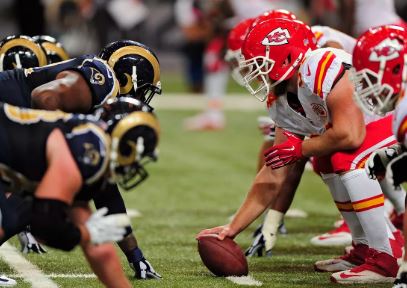 A week from tonight , the Rams will be playing the Chiefs on Monday Night Football. The game will be held in Mexico City (as part of the NFL's plan to increase interest in the sport outside U.S. borders). We usually do not preview games a week ahead of time unless it is the Super Bowl or a bowl game, but this game is special for a different reason. The game features the highest betting point total (Over/Under) in NFL history.
The game line and total were put onto the open betting market at Rams -1 and 63.5. The line has since moved to Rams -2.5 and between 62.5-64, depending on which sportsbook you are looking.
The highest total we could find previous to this was 2009's game between the Rams and the 49ers. That total was 62 points. The Rams ended up winning 34-24 and Total stayed UNDER.
A quick look at the team numbers this year for both teams reveal that the over may be a tad high. If you used the total scoring and total points allowed and apply simple mathematics you get a total of 57.95
The three regular season games played in Mexico City in previous years had no trouble scoring points (ARZ 31-14 SF in 2005, OAK 27-20 HOU in 2016, and NE 33-8 OAK last year). So, the points scored shouldn't be hindered by the game being played at a neutral site in a foreign country. More on NFL game scoring outside USA
Both teams have a 5-5 record concerning the Over/Under. The last time the teams met was October 26, 2014 and the Chiefs beat the Rams 34-7 at Arrowhead.