Tua Tagovailoa Injured, Heisman Futures Adjusted
November 14, 2018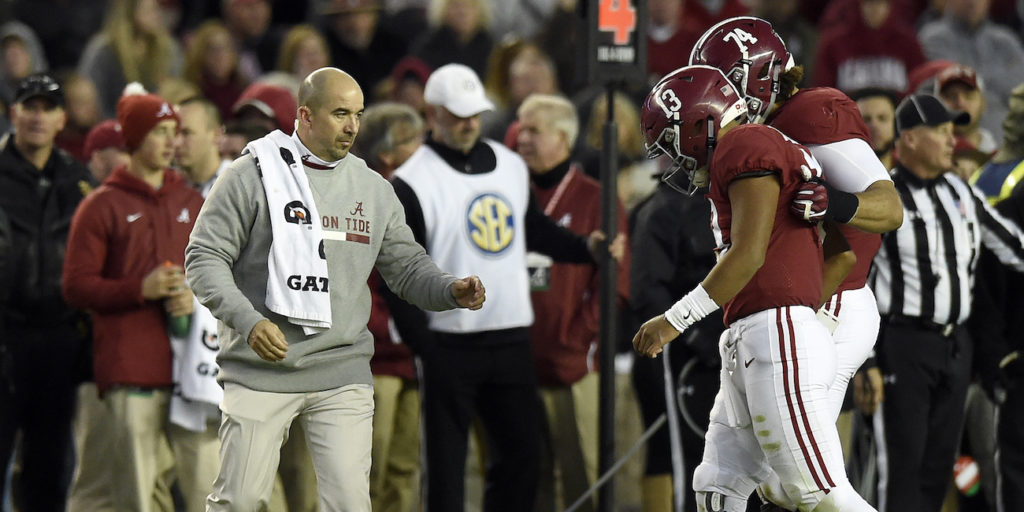 Heisman Trophy favorite Tua Tagovailoa was taken out of Alabama's game in Week 11 against the Mississippi State Bulldogs due to an injured right knee. That caused odds makers to adjust his odds to -450 from -1000.
Nevertheless, the Alabama quarterback remains the odds on favorite to win the coveted award as the season moves to Week 12 and Crimson Tide coach Nick Saban said Tua would play on Saturday. However, this opens ever so slightly the door for Oklahoma Sooners quarterback Kyler Murray, who at +500 is second behind Tagovailoa.
Behind Tagovailoa and Murray are West Virginia's Will Grier at +700, Michigan's Shea Patterson at +2000 and Clemson's Travis Etienne and Trevor Lawrence both at +2500 rounding out the top five on the futures board.
In 10 games this season, Tagovailoa has not played in the fourth quarter in nine, with the ninth due to his injury last week. The Crimson Tide quarterback has had a nagging knee injury the past few weeks and it became worse after talking a low hit in the Mississippi State game.
Saban said Tagovailoa would start in the game with The Citadel on Saturday but no one knows how long the Crimson Tide QB will play. Next week Alabama plays Auburn in the Iron Bowl to end the regular season.
Last week before being taken out, Tagovailoa threw for just 164 yards with a touchdown and an interception.
Through Week 11 the Alabama quarterback has 2,575 yards passing, 28 touchdowns and two interceptions.
Murray and Grier continue pressuring Tagovailoa with their performances, but both lost this past week. Oklahoma lost 48-45 to Texas and West Virginia lost to Iowa State 30-14.
The Sooners' Murray is No. 8 in the country in passing yards with 3,038 and has thrown 32 touchdowns. Grier is No. 9 with 2,961 yards through the air and has 31 touchdown passes.
Murray is ahead of Grier overall thanks to an advantage running the ball, as he has rushed for 640 yards and seven touchdowns on 96 carriers, while Grier as -63 yards rushing on 34 carries.
Both Murray and Grier will need to have excellent performances the next two weeks combined with Tagovailoa struggling against Auburn in the Iron Bowl or during the SEC championship game if they hope to have any chance at winning the Heisman Trophy in 2018.
To place your online sports bet for the Heisman Trophy winner, visit the Internet's top sportsbooks.