Bet365 Founder Gets Paid Huge Sum
November 23, 2018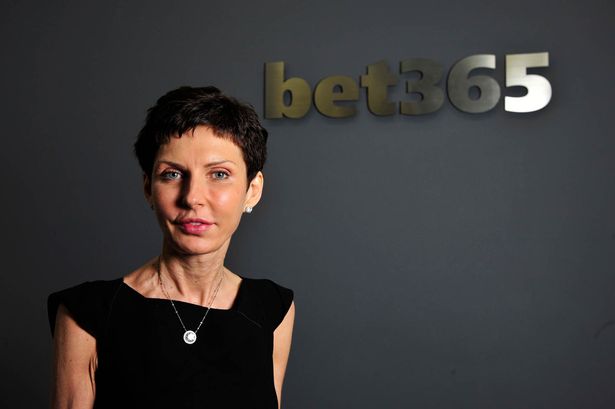 Any founder of a top online sports betting platform will be making good money, that is for sure. But what if I told you that Denise Coates, founder of Bet365, was paid 100 million dollars in 2017? Well if I told you that I'd be lying; because Denise Coates took home a whopping 279 million dollars in 2017.
She still own 50% stake in Bet365, a company which has grown tremendously since its founding in 2000. The company owns the third largest bookmaking business in the UK (the world's largest betting market) and is number one overall as far as booking online bets. Bet365 has 24% of the mobile betting app market at last report. They also own the Stoke City Football Team (soccer for you yanks).
In 2005, Bet365 sold their brick and mortar shops to Coral to pay off the debts they accrued. That left them with the online property which was already hugely popular. Not long after the launch of the modern mobile platforms, Bet365 was developing apps that made sports betting easy and reliable. They have been a pioneer in that area.
So who is Denise Coates?
Well she is not exactly a "start from scratch" type of billionaire (net worth reported to be $4.1B as of OCT 2018) like, let's say, someone like Oprah.  Denise Coates was running her family's already established bookmaking business in Britain from 1995, when she oversaw the development of a new online betting software. She then borrowed 15M GBP against her family's business to launch the new venture. Let's just say that gamble has paid off.
Bet365 is a monster of sportsbook and has long had a reputation for being reliable. Their only knock is that they will tell winners to take a hike if they start winning too often. This more conservative approach to bookmaking has seemed to pay off very well. After all, the family had been in the sports betting business since 1974 when her father, Peter Coates, purchased a few racing shops. The company, which became knows as Provincial Racing, grew to as many as 59 brick and mortar type  betting shops.
Not All a One Way Street
Its not like Ms. Coates just takes the money and runs. She has chosen to keep the business in the UK, despite ridiculous taxes, while many of her competitors fled to other countries (offshore). Also, the football team I mentioned before, Stoke City, has sentimental tie-ins. Her father was actually initially signed to play for that team way back in the 1950's after growing up going to the games with his dad.

Foundation
Ms. Coates has given away more than 100M GBP to charities through her foundation, which is named for her father, The Peter Coates Foundation. The charities include donation given to cancer sufferers, university scholarships as well as typhoon relief in the Philippines.
Critics and Editor's Opinion
Her critics say she should do more to address and help the almost half-million identified "problem gamblers" in the UK. My personal opinion is that there will always be people who abuse certain recreational activities and the help offered through pubic services should be enough. After all, of that 279M pounds we began this article referencing, almost half will go to the government.
Of the 66 million people that live in the UK, there are one half million people who have an adverse relationship to gambling. That is only 1 in 132 people (>1%). In comparison, alcohol consumption for instance, over 5 million people have had an adverse relationship (7.8%).