Thursday Night Football: A Game You Can Make Impossible to Lose
December 13, 2018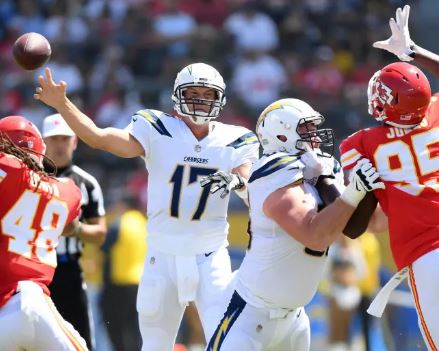 The LA Chargers at The Kansas City Chiefs
(Thursday, December 13th at 8:20 PM ET)
This is one of the most challenging games to handicap this season for one main reason.  Too many of the skill pieces are out or questionable. No matter the outcome, there's only one correct play.
---
Only two(2) teams have scored 20+ points in every game this season.
You'll get to see them both this evening.
Here's who's missing, or may be limited in action:
Chiefs: Sammy Watkins, Spencer Ware, Tyreek Hill, Kareem Hunt
The above have accounted for:
9 of 12 Rushing Touchdowns!
21 of 43 Receiving Touchdowns
If you take out Travis Kelce(TE), there's not much left.
Chargers: Melvin Gordon, Austin Ekeler
The above account for 81.8% of LA's run production!
---
For tonight:
I've done the homework.
Hope the following helps.
1) Here's a compelling stat for Thursday Night Football:
The home team has won and covered(including 3 games on Thanksgiving)  all but three(3) times. That's 13 wins against 3 losses(some games were close to a push).
2) Neither team dominated in their last contest.
Both could be considered trap games. But…. The Chiefs beat one of the best defenses in the NFL. The Chargers could have lost to one of the worst  offensive and defensive teams in the league, the Bengals.  The odds makers certainly know this, and it's already built into the line.
3) Injuries and Attrition:
a) The Chiefs have obviously lost one of the most talented offensive threats  in the league. His replacement, Spencer Ware, has been adequate.  They are really thin at backup.
b) The Chargers could also be thin at running back. The replacements are unproven.
4) Quarterback:
At the beginning of the season, nobody would have given the edge to Mahomes over Rivers.  I might now. He may not have played his best game of the year last Sunday,  but converted impressively when needed.
As with most teams, an injury to one of these top tier signal callers, would be a huge advantage for the opposition.
If either gets hurt, their replacements are Geno Smith and Chad Henne. Both have been turnover machines throughout their careers.  Both have completion percentages substantially below NFL averages, even for backups.
5) Turnover Margin:
Goes to the Chargers
6) Offensive Output:
Both are prolific.  The Chiefs have been better, but are missing too many of their animate chess pieces.
7) Defenses:
a) The Chief's has been one of the worst in the league.  But….. Kansas City has played a pretty strong Strength of Schedule. Los Angeles has played one of the easiest.
8) Records:
a) The Chiefs haven't lost at home.
b) The Chargers have played well on the road, with only one loss.
9) Weather:
It could be wet and cold.
Here's the Best way to guarantee you don't lose money on tonight's game.
Don't bet on it!
There will be so many more definitive opportunities for the rest of the NFL season and for bowl games.
Contributed by John Rothschild
(Recent articles at SI, ESPN, Bloomberg News, New York Sports Scene)
Author of Best Selling:
Football Betting Made Easy
Still Time to Order for the Holidays.
John Rothschild
[email protected]