The Dallas Cowboys at The Indianapolis Colts (314)
December 16, 2018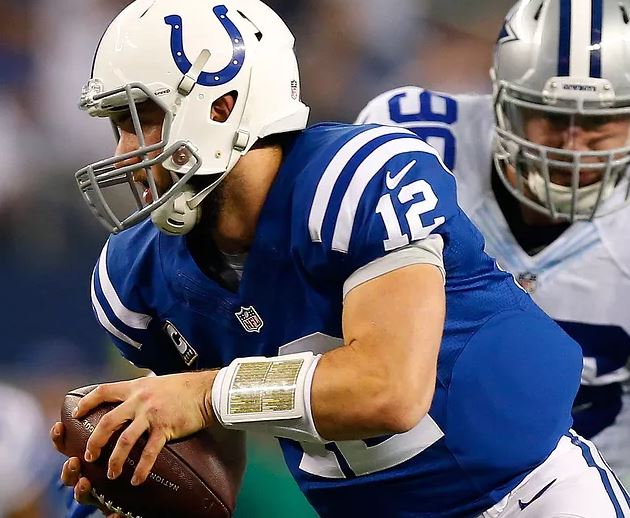 Sunday Afternoon Football
A Game with a Better Chance to Convert
Contributed by John Rothschild
(Recent articles at SI, ESPN, Bloomberg News, New York Sports Scene)
We need to look at why some things the past few weeks,  may not recur this Sunday.
Dallas has looked impressive winning 5 consecutive games.
They've beaten:
5) The Eagles- who are one of the most injured teams in the league.
4) The Falcons- who have a bad defense.
3) The Redskins- who have lost most of their offensive line, and playing with Colt McCoy at QB.
We don't need any flowery adjectives. He just looked horrible.
2) The Saints- who had an atypically bad game, coming to Dallas with a ten(10) game winning streak. It happens.
1) The Eagles again- Dallas won in overtime. They should have lost as the favorite.
We always think the other team gets the breaks, but they usually even out. If you bet the Eagles, you got all the bad breaks. Dallas arguably had 4 game changing gifts from the referees, including:
– A fumble that the Eagles clearly recovered in the opposing "red zone".
– A phantom offensive pass interference when D. Goedert scored a touchdown.
– A concussion that was supposed to sideline E. Elliott. Instead of going into the tent, or getting treatment, he ran back onto the field and surprised the Eagles by getting the ball.
In addition, the Dallas offense played against a secondary that had two players who were on Philadelphia's opening day roster.  By the 2nd half, that number was down to one.
---
Indianapolis was having a nice turnaround, winning five(5) in a row. They weren't prepared in their next against Jacksonville, and lost. Andrew Luck who is usually so efficient, wasn't.
The Colts bounced back in Houston, breaking the Texan's nine(9) game winning streak as 4 point underdogs.
In addition:
1) It would be nice for Dallas to win this game, but they're coming off an emotional win, and most likely qualified for the top spot in their division.
2) The Colts have been out of town for their last two(2) games.
As colloquial as this sounds, there is an "ebb and flow" in the NFL. It looks like the flow is moving towards Indianapolis even though the line is drifting towards Dallas. That's good.
I like the Indianapolis Colts -2.5
John Rothschild

[email protected]
Author of Best Selling:
Football Betting Made Easy
Still Time to Order for the Holidays.