The New York Giants at The Indianapolis Colts
December 22, 2018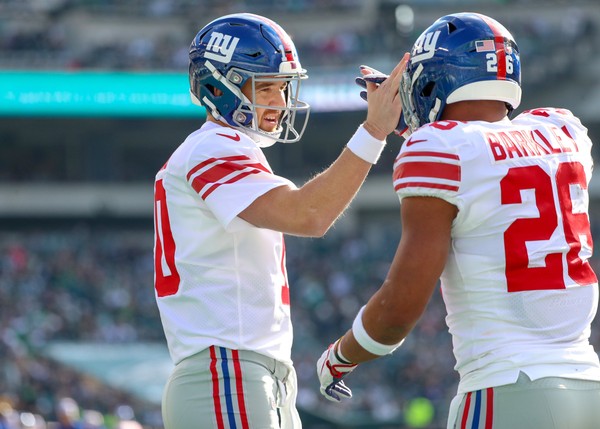 Usually what you saw last week, doesn't happen the next. It may on Sunday.
Even though the Colts are heavy favorites, there's actually a little value on the line, because:
1) Indianapolis held many players(listed as questionable), out of Thursday's practice.
2) New York had a great game two weeks ago against the Redskins.
3) Sometimes an aging Eli Manning will play better than expected. Over 114 million viewers have seen him win the Super Bowl twice.
4) A resurgent Colts team took a game off three(3) weeks ago, and couldn't score against the Jaguars.
Let's address the values listed above.
1) Anything can happen, but many of the Colts players listed as questionable, should be in uniform on Sunday.
2) The Giants great game against Washington was against a team without a quarterback and an offensive line decimated by injuries.
3) Going back over the years, Manning's better performances have been when games mattered. He has not played as well when his team has been out of contention.
4) It's a pretty good bet that the Colts contest against the Jaguars was more
of an anomaly game.
**********************
Last week the Colts were dominant, the Giants were dominated.
Indianapolis coach Reich deserves lots of credit. His team started the season 1-5, and looked destined for a high draft pick. Now they're fighting for a playoff spot, and are arguably a team that few want to face.
Colt positives:
1) Quarterback
2) A superior offensive line
3) A defense who's last three(3) contests are tops in the league, only allowing an average of 9 points per game.
4) One of the most consistent kickers in the history of the NFL.
5) And….. the most obvious angle(but is already built into the line): They need to win, while the Giants have been eliminated from post season play.
In addition:
1) Saquon Barkley is impressive, but he's only one of forty-six. On the Colts side of the ledger, Marlon Mack's average yards/carry isn't much worse than Barkley's.
2) The Giant's coaching hasn't impressed.
I like the Indianapolis Colts -9
Bet this pick at a top sportsbook
******************
Contributed by John Rothschild
(Recent articles at SI, ESPN, Bloomberg News, New York Sports Scene)
Author of Best Selling:
Still Time to Order for the Holidays.
Want More?