Super Bowl 53 Preview and Pick
February 3, 2019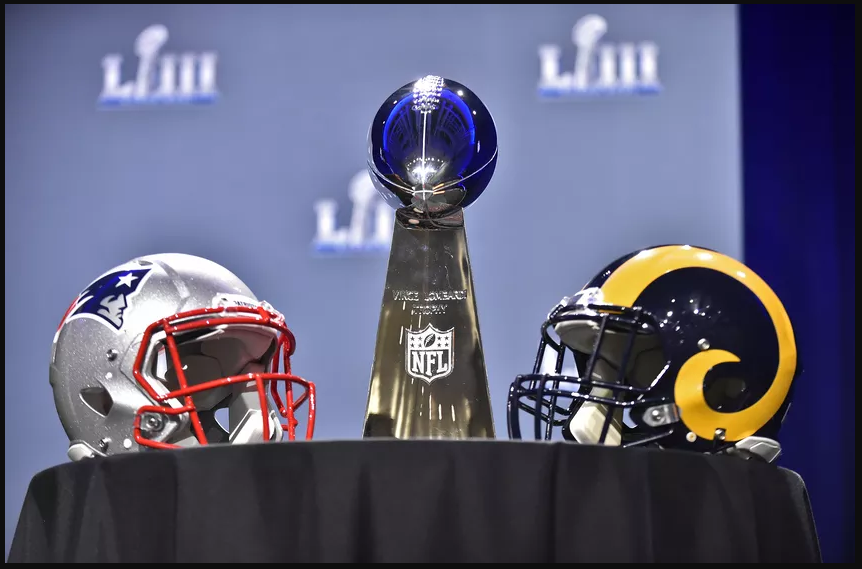 It is now SBA's 12th year of operation. We specialize in providing detailed and accurate reviews about online sportsbooks in an effort to help people make informed decisions. We also like betting action ourselves and enjoy sharing the information we have. We were originally going to just post our prop picks and nothing else. We figured that, by now, people probably have their own picks for the Super Bowl or have paid a professional handicapping service for their picks. But I find myself writing this article anyway. I want to share the way we are thinking here at the SBA offices.
ACTION
One way to handicap a major sporting event is to you wait for the marquee games, see which way people are betting, and if there is heavy lopsided wagering: bet the opposite. This has come to be known as "contrarian play" or "Against the Public" (ATP). The logic behind it is that the public is often misinformed or under-informed and that they bet with their hearts and not with their minds. Also, sportsbooks make a killing every year and usually just a dozen or so big wins throughout the season decide how much that profit total will be.
Some problems with betting contrarian only is that 1) Sportsbooks do go through periods of losing, including huge games. 2) The public is becoming much more informed than years past. The explosion of gambling information outlets on the web has made this happen.
As we reported a week ago, sportsbook were getting slammed with Patriots action and the line moved four points (from LAR -1.5 to NE -2.5). Many sportsbooks wanted to stay away from that number 3 on thee NE spread. Most of them did. And as expected some major action came in at the end of the week on the Rams. There were several 7 figure bets made on the Rams with MGM Sportsbooks in Las Vegas alone. Online sportsbook William Hill had already moved the line to NE -3 and got hit with a massive Rams bet for $1.5 million and the line was moved to NE -2.5. They are now sitting on NE -2.
Just to note, a lot of bookmakers will tell you that balancing their action is not as important to them as managing their handle in a way where they end up rooting on the same side as professional gamblers and against the public.

— David Payne Purdum (@DavidPurdum) February 3, 2019
Sportsbooks are still reporting lopsided action on the Patriots, but clearly not as lopsided as before. The Patriots action is only about 60% regarding the spread and there is actually more moneyline exposure on the Rams for most sportsbooks.
There is no longer a clear-cut case to be made for a genuine ATP play on this Super Bowl.
TRENDS
Both teams are on a four game win streak. Both won their last game, on the road, as underdogs.
LA Rams are 15-3 SU in its last 18 games
LA Rams are 4-1 ATS in its last 5 games
New England is 8-4 ATS in its last 12 games
New England is 4-1 SU in its last 5 games
Both teams are coming in hot and streaking.
The last 5 teams to make the Super Bowl after losing it the previous year have all lost.

The last team to make and win a Super Bowl the next year after losing one is the 1972 #Dolphins

— Rich Eisen (@richeisen) February 3, 2019
Conclusion
There isn't a whole lot here to work with. A few computer models we saw have the Rams at a 3 point better team than the Patriots. The line came out at Rams -1.5. It is now NE -2.5 at most online sportsbooks. So, you can look at the Rams getting points as "value". But can you bet against Brady and Belichick? We are going with a small wager on the RAMS +2.5.
Both teams defense have been exposed multiple times this season. The Chiefs put up 51 on the Rams. Yes, the Chiefs are a great teams but 51 points is 51 points. The Seahawks scored 31 points against the Rams in two different games this season. The Saints lit them up for 45 points. Good offenses kill this defense.
The Rams secondary has looked JV at times this year. Passing off receivers crossing the zones seems to be a real problem for them and you can bet Tom Brady has been working all week on exposing this weakness. Will today be the day the Rams figure it all out and stop Brady? I don't think so. They can only hope to contain him and outscore the Pats.
The Patriots have allowed a ton of points at times this season as well. Don't forget "The Miracle in Miami" where the Dolphins scored 34 points on them, granted some of that was special teams. In the playoffs, the Chargers put up 28 and the Chiefs put up 31 points on the Pats. Their defense is something that definitely concerns Belichick and his coaching staff.
The roof of the stadium for the Super Bowl will be open for the pre-game and flyover, but then they will close it and the field conditions should be ripe for a high scoring well executed game. We like the OVER 56 for a medium size play. List of Sportsbooks