Oscars Final Odds and Betting Results
February 25, 2019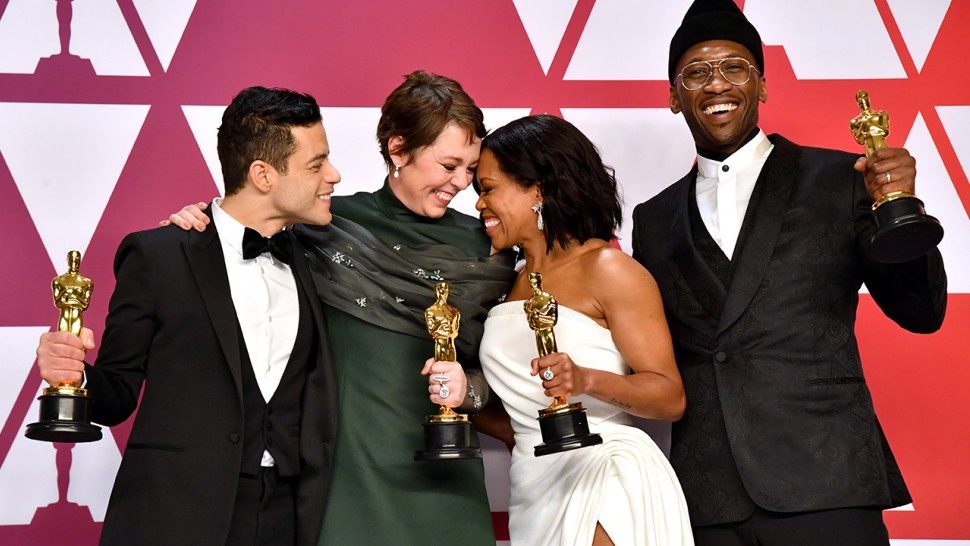 If you are anything like me, you don't really give a shit about the Oscars. You can see through their PC B.S. and their kowtowing to small interest groups. All it took was a tweet from perpetually angry black actress Jada Pinkett Smith (who was one of many facets that ruined the Matrix franchise) to cause The Academy to panic. They feared that the world would see them for what they truly are: overrated rich white people who live behind giant walls in secluded neighborhoods in Hollywood.
Jada retweeted fat black activist April Reign's #OscarsSoWhite tweet and the Academy has bent over backwards to artificially insert black movies into prize pools. The very year after the tweet occurred, Moonlight won best picture. Coincidence? Only if you are brainwashed. The winners every year following had a very liberal and left leaning message about them. The Shape of Water won in 2018. In this film, a Mexican director tells a story about a disabled white woman who's gay best friend and a black coworker help her spring an alien (illegal?) from the oppression of the government which (of course) is led by an angry white man.
This year saw the nomination of BlacKkKlansman, Black Panther and Green Book. The last movie's title doesn't give it away for what it is: another leftist propaganda piece.
As a result of neglecting, if not outright attacking, the largest demographic in the country and more specifically the one with the highest spending power, the Oscars have suffered. Oscar Ratings last year were at an all time low. And when I say all-time low, I mean all-time low. Or, at least, since they began recording the ratings in 1974, when the population of the country was literally half of what it is now. This year they couldn't get anyone to host the show until the eleventh hour. It is a perversion of itself. Why go out and make the best movie when you can just make a decent movie then complain your way to the top? We all know what is going on. Nobody is snowed. History will look back at this period with contempt.
Anyway, here were the closing odds and winners (if there truly are any winners) in bold. A Star is Born was the opening favorite, that is, until people realized that the Academy was not going to award the Oscar to a movie about white people singing country music. No way, no how. So, the odds then shifted to a Hispanic movie called Roma. But the Hispanics don't have as much guilt power, so it didn't win. They still gave Roma director Alfonso Cuaron the "Best Director" award to smooth it over.
New Jersey sportsbooks took $747,696 in bets on the Oscars.

— David Payne Purdum (@DavidPurdum) March 13, 2019
BEST PICTURE

WINNER: Green Book (+200)
BlacKkKlansman (+1400)
Black Panther (+800)
Bohemian Rhapsody (+1000)
The Favourite (+1000)
Green Book (+200)
Roma (-155)
A Star Is Born (+1000)
Vice (+500)
BEST DIRECTOR
WINNER: Alfonso Cuaron for Roma (-2000)
BETTING SUSPENDED IN THIS CATEGORY
Alfonso Cuaron for Roma (-2000)
Spike Lee for BlacKkKlansman (+800)
Adam McKay for Vice (+4000)
Pawel Pawlikowski for Cold War (+3300)
Yorgos Lanthimos for The Favourite (+3300)
BEST ACTRESS
WINNER: Olivia Colman in The Favourite (+500)
Yalitza Aparicio in Roma (+3300)
Glenn Close in The Wife (-715)
Olivia Colman in The Favourite (+500)
Lady Gaga in A Star Is Born (+1000)
Melissa McCarthy in Can You Ever Forgive Me? (+6600)
BEST ACTOR
WINNER: Rami Malek in Bohemian Rhapsody (-835)
Christian Bale in Vice (+400)
Bradley Cooper in A Star Is Born (+1200)
Willem Dafoe in At Eternity's Gate (+5000)
Rami Malek in Bohemian Rhapsody (-835)
Viggo Mortensen in Green Book (+2000)
BEST SUPPORTING ACTOR
WINNER: Mahershala Ali in Green Book (-2000)
Mahershala Ali in Green Book (-2000)
Adam Driver in BlacKkKlansman (+3300)
Sam Elliott in A Star Is Born (+1400)
Richard E. Grant in Can You Ever Forgive Me? (+700)
Sam Rockwell in Vice (+3300)
BEST SUPPORTING ACTRESS
WINNER: Regina King in If Beale Street Could Talk (-335)
Amy Adams in Vice (+450)
Marina de Tavira in Roma (+2000)
Regina King in If Beale Street Could Talk (-335)
Emma Stone in The Favourite (+1400)
Rachel Weisz in The Favourite (+600)
BEST ADAPTED SCREENPLAY

WINNER: BlacKkKlansman (-400)
The Ballad of Buster Scruggs (+5000)
BlacKkKlansman (-400)
Can You Ever Forgive Me? (+450)
If Beale Street Could Talk (+500)
A Star Is Born (+1700)
BEST ORIGINAL SCREENPLAY
WINNER: Green Book (+225)
The Favourite (-250)
First Reformed (+1000)
Green Book (+225)
Roma (+800)
Vice (+3300)
BEST SONG
WINNER: "Shallow" from A Star is Born (-3335)
"All the Stars" from Black Panther (+800)
"I'll Fight" from RBG (+2000)
"The Place Where the Lost Things Go" from Mary Poppins Returns (+2000)
"Shallow" from A Star is Born (-3335)
"When A Cowboy Trades His Spurs For Wings" from The Ballad of Buster Scruggs (+4000)

BEST SCORE

WINNER: Black Panther (+200)
BlacKkKlansman (+1000)
Black Panther (+200)
If Beale Street Could Talk (-200)
Isle of Dogs (+2500)
Mary Poppins Returns (+450)
BEST CINEMATOGRAPHY
WINNER: Roma (-1667)
Cold War (+700)
The Favourite (+1400)
Never Look Away (+4000)
Roma(-1667)
A Star Is Born (+1000)
BEST FILM EDITING

WINNER: Bohemian Rhapsody (+250)
BlacKkKlansman (+1000)
Bohemian Rhapsody (+250)
The Favourite (+250)
Green Book (+2000)
Vice (-110)
BEST VISUAL EFFECTS

WINNER: First Man (+350)
Avengers: Infinity War (-250)
Christopher Robin (+300)
First Man (+350)
Ready Player One (+1000)
Solo: A Star Wars Story (+5000)
BEST PRODUCTION DESIGN

WINNER: Black Panther (+160)
Black Panther (+160)
The Favourite (-230)
First Man (+2500)
Mary Poppins Returns (+2500)
Roma (+800)
BEST COSTUME DESIGN

WINNER: Black Panther (-134)
The Ballad of Buster Scruggs (+3300)
Black Panther (-134)
The Favourite(-134)
Mary Poppins Returns (+2500)
Mary Queen of Scots (+2500)
BEST MAKEUP AND HAIR

WINNER: Vice (-3335)
Border (+2000)
Mary Queen of Scots (+900)
Vice (-3335)
BEST SOUND EDITING

WINNER: Bohemian Rhapsody (+200)
Black Panther (+1000)
Bohemian Rhapsody (+200)
First Man (-112)
A Quiet Place (+200)
Roma (+3300)
BEST SOUND MIXING
WINNER: Bohemian Rhapsody (-200)
Black Panther (+3000)
Bohemian Rhapsody(-200)
First Man (+800)
Roma (+3000)
A Star Is Born (+150)
BEST FOREIGN LANGUAGE FILM

WINNER: Roma (Mexico) (-5000)
Capernaum (Lebanon) (+3300)
Cold War (Poland) (+900)
Never Look Away (Germany) (+4000)
Roma (Mexico) (-5000)
Shoplifters (Japan) (+2000)
BEST ANIMATED FEATURE

WINNER: Spider-Man: Into the Spider-Verse (-3335)
Incredibles 2 (+1000)
Isle of Dogs (+800)
Mirai (+4000)
Ralph Breaks the Internet (+3000)
Spider-Man: Into the Spider-Verse (-3335)

BEST DOCUMENTARY (FEATURE)

WINNER: Free Solo (-200)
Free Solo (-200)
Hale County This Morning, This Evening (+3300)
Minding the Gap (+1000)
Of Fathers and Sons (+3300)
RBG (+125)
BEST ANIMATED SHORT

WINNER: Bao (-560)
Animal Behaviour (+2500)
Bao(-560)
Late Afternoon(+1700)
One Small Step (+1400)
Weekends(+375)
BEST LIVE ACTION SHORT

WINNER: Skin (+175)
Detainment (+400)
Fauve (+800)
Marguerite (-110)
Mother (+1000)
Skin (+175)
BEST DOCUMENTARY (SHORT)

WINNER: Period. End of Sentence. (-305)
Black Sheep (+150)
End Game (+550)
Lifeboat (+1400)
A Night at the Garden (+2800)
Period. End of Sentence. (-305)
Results and odds borrowed from PlayUSA