Tennessee Odds Lengthen, Duke Stays the Same – NCAA Hoops Odds
February 27, 2019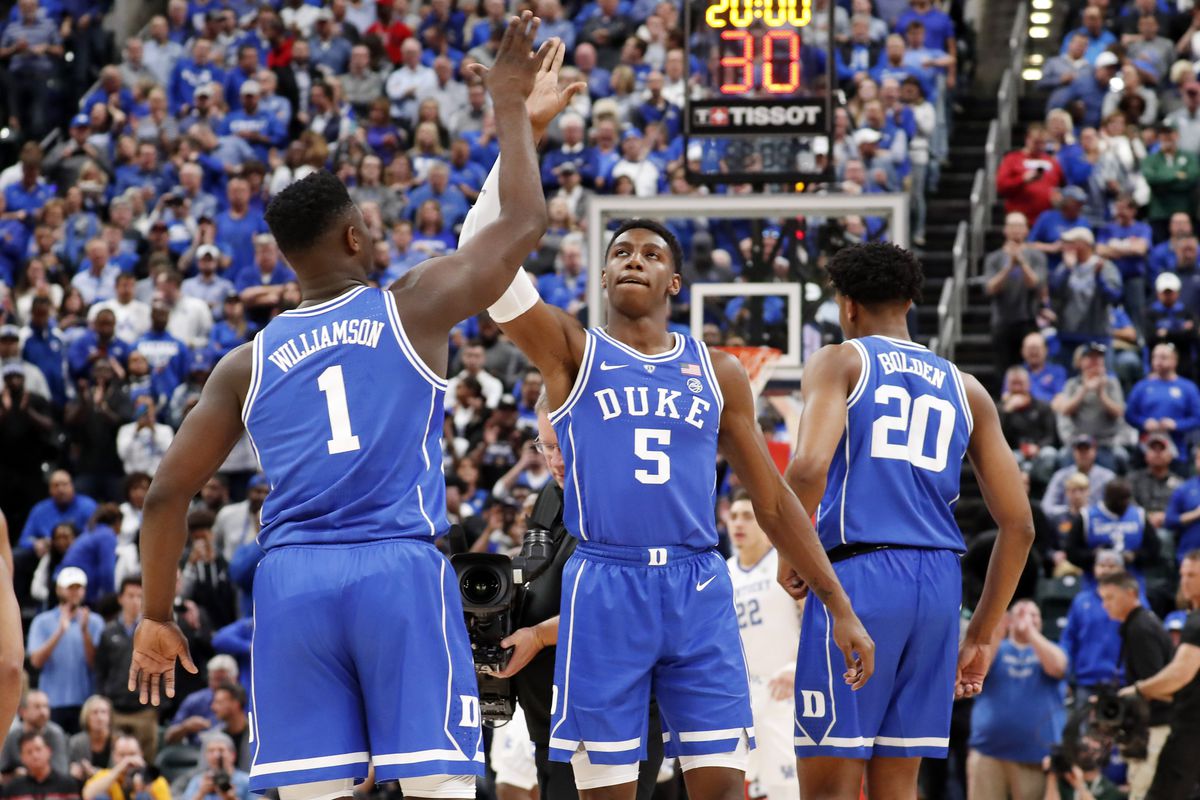 Looking at the latest college basketball odds to win the national title, there have been some anticipated changes since our previous odds post two weeks ago. Tennessee has lost two of their last three and have seen their odds change from +700 to +1200. Gonzaga has moved up a little to +700 (from +900) and North Carolina has shortened from +1600 to +1200.
The Duke loss to Virginia Tech yesterday has not shifted their odds as favorites to win it all. They remain +225 overall. This is because top player Zion Williamson is expected to come back according to Duke Head Coach K.
Michigan and Michigan State remain about the same oddswise and Villanova has really fallen, seeing their odds go from +2000 to +3300. Villanova has lost four of their last five and seems to be in a free fall right now. Prior to this skid, they had won 11 games in a row. Experts agree that Villanova needs a breakout game against #10 Marquette tonight. The spread for that game was posted at Nova -3.5 and has since climbed up to Nova -5.5. The betting action is about even on that game. You can bet this game at one of the web's top rated sportsbooks.
| Duke | +225 |
| --- | --- |
| Gonzaga | +700 |
| Virginia | +750 |
| Kentucky | +900 |
| North Carolina | +1200 |
| Tennessee | +1200 |
| Michigan | +1400 |
| Michigan State | +1400 |
| Nevada | +2200 |
| Texas Tech | +2200 |
| Kansas | +2500 |
| Purdue | +2800 |
| Iowa State | +3300 |
| Marquette | +3300 |
| Villanova | +3300 |
| Houston | +4000 |
| Kansas State | +4000 |
| LSU | +4000 |
| Virginia Tech | +4000 |
| Florida State | +5000 |
| Wisconsin | +5000 |
| Auburn | +6600 |
| Buffalo | +6600 |
| Iowa | +6600 |
| Louisville | +6600 |
| Maryland | +6600 |
| Syracuse | +6600 |
| Washington | +6600 |
| Cincinnati | +10000 |
| Mississippi State | +10000 |
| Texas | +10000 |
| Arizona | +15000 |
| St. John's | +15000 |
| Arizona State | +20000 |
| Baylor | +20000 |
| Oregon | +20000 |
| VA Commonwealth | +20000 |
| Butler | +30000 |
| Florida | +30000 |
| Oklahoma | +30000 |
| TCU | +30000 |
| Loyola Chicago | +50000 |