2019 NCAA Tournament Odds to Win and ATS Info
March 18, 2019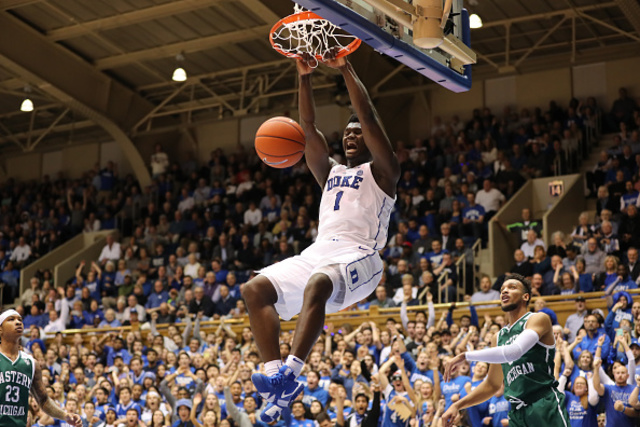 In this post we will list the odds for each team to win the NCAA tournament (NCAA Championship). These are moneyline odds and each one is based on the bettor risking $100. If the odds are +1400, the $100 bet pays $1400.
We are also including the teams in the tournament that have the best and worst records against the spread this season. This information can help you handicap each game that you are considering wagering.
Betting odds are accurate from online sportsbooks as of time of writing this article.
Top Ten Best ATS
| Team | Record |
| --- | --- |
| North Carolina | 22-9-1 |
| Michigan State | 22-10 |
| Virginia | 21-9 |
| Ole Miss | 20-9 |
| VCU | 20-10 |
| Murray State | 18-9 |
| Oklahoma | 19-10-2 |
| UC Irvine | 20-11-1 |
| Michigan | 19-11 |
| Houston | 17-10 |
check out top ranked sportsbooks
Top Ten Worst ATS
| Team | Record |
| --- | --- |
| Northern Kentucky | 11-19-1 |
| Old Dominion | 12-19-1 |
| Cincinnati | 12-18-1 |
| Florida | 13-18-1 |
| Iowa | 12-17 |
| Iona | 13-17 |
| Montana | 14-18 |
| Ohio State | 14-16 |
| Wisconsin | 13-15-1 |
| Kansas | 15-16-1 |
check out top ranked sportsbooks
NCAA Championship Odds
| Duke | +250 |
| --- | --- |
| Gonzaga | +550 |
| Virginia | +550 |
| North Carolina | +800 |
| Kentucky | +1200 |
| Michigan State | +1200 |
| Tennessee | +1400 |
| Michigan | +2000 |
| Texas Tech | +2000 |
| Auburn | +3300 |
| Florida State | +3300 |
| Purdue | +3300 |
| Houston | +4000 |
| Iowa State | +4000 |
| LSU | +4000 |
| Villanova | +4000 |
| Kansas | +5000 |
| Marquette | +5000 |
| Virginia Tech | +5000 |
| Buffalo | +6600 |
| Louisville | +6600 |
| Nevada | +6600 |
| Cincinnati | +8000 |
| Kansas State | +8000 |
| Maryland | +8000 |
| Wisconsin | +8000 |
| Florida | +10000 |
| Mississippi State | +10000 |
| Syracuse | +10000 |
| Wofford | +10000 |
| Iowa | +15000 |
| Oregon | +15000 |
| Seton Hall | +15000 |
| Arizona State | +25000 |
| Baylor | +25000 |
| Minnesota | +25000 |
| Mississippi | +25000 |
| Murray State | +25000 |
| New Mexico State | +25000 |
| Ohio State | +25000 |
| Oklahoma | +25000 |
| St. Johns | +25000 |
| St. Marys | +25000 |
| UC Irvine | +25000 |
| UCF | +25000 |
| Utah State | +25000 |
| VCU | +25000 |
| Washington | +25000 |
| Belmont | +50000 |
| Georgia State | +50000 |
| Iona | +50000 |
| Liberty | +50000 |
| Montana | +50000 |
| Northeastern | +50000 |
| Northern Kentucky | +50000 |
| Saint Louis | +50000 |
| Temple | +50000 |
| Yale | +50000 |
| Fairleigh Dickerson | +100000 |
| North Dakota State | +100000 |
| Old Dominion | +100000 |
| Prairie View A&M | +100000 |
| Vermont | +100000 |
| Abilene Christian | +200000 |
| Bradley | +200000 |
| Colgate | +200000 |
| Gardner-Webb | +200000 |
| N.C. Central | +200000 |
check out top ranked sportsbooks