NFL Marquee Game Look Ahead Lines
April 19, 2019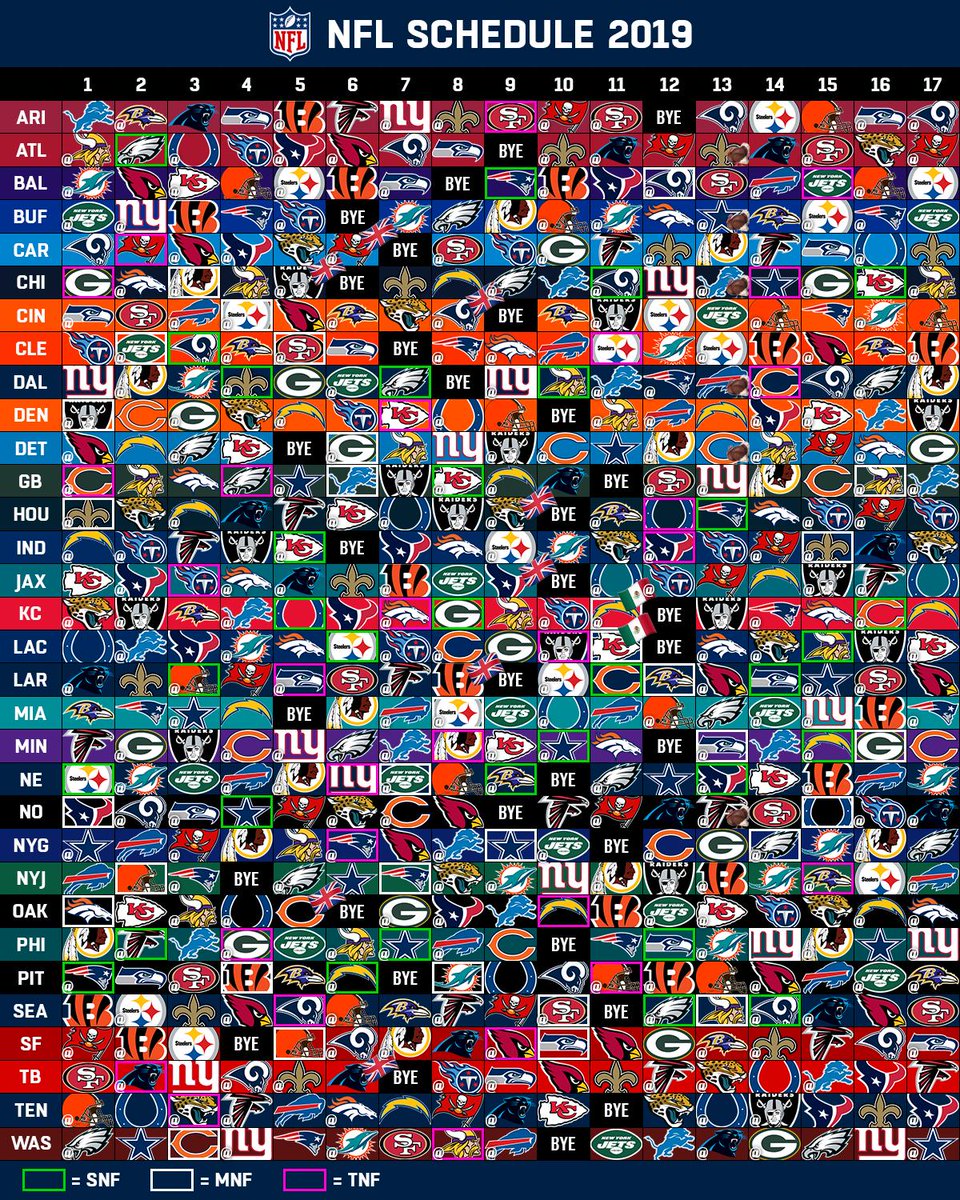 Look ahead lines do not receive huge betting action from the public. After all, many factors can change between now and say, November. But, they are a fun way to bet the NFL. The angle, if there is one, is if you think you know how a team will draft and how they will play this season. If you think the look ahead line is weak because the oddsmakers are underestimating the team is also a major reason to bet NFL look ahead lines.
Here we list a series of look ahead lines for key games throughout the NFL season. Sportsbooks like BetOnline.ag describe them as "Game of the Year" games. You can see the entire 2019 NFL schedule here. Or enlarge the NFL schedule featured image.
You will see a lot of Patriots, Cowboys, Chiefs and Packers in there. The team match-ups are of those teams that are usually in the hunt for the championship and/or have huge fan bases.
A few that I like right off the bat are the Rams -2 at Browns, Packers +3.5 at Cowboys, Giants +3.5 at Jets and Chiefs +1 at Chargers. Do with this information what you will.
| Date and Time | Teams | Lines |
| --- | --- | --- |
| Sunday, Sep 15, 2019 - NFL Football | | |
| | New Orleans Saints | +3 |
| | Los Angeles Rams | -3 |
| Monday, Sep 16, 2019 - NFL Football | | |
| | Cleveland Browns | -2½ |
| | New York Jets | +2½ |
| Sunday, Sep 22, 2019 - NFL Football | | |
| | Los Angeles Rams | -2 |
| | Cleveland Browns | +2 |
| Sunday, Sep 29, 2019 - NFL Football | | |
| | Dallas Cowboys | +5½ |
| | New Orleans Saints | -5½ |
| Sunday, Oct 06, 2019 - NFL Football | | |
| | Green Bay Packers | +3½ |
| | Dallas Cowboys | -3½ |
| Thursday, Oct 10, 2019 - NFL Football | | |
| | New York Giants | +10 |
| | New England Patriots | -10 |
| Monday, Oct 21, 2019 - NFL Football | | |
| | New England Patriots | -6 |
| | New York Jets | +6 |
| Sunday, Oct 27, 2019 - NFL Football | | |
| | Cleveland Browns | +6½ |
| | New England Patriots | -6½ |
| | | |
| | Green Bay Packers | +6 |
| | Kansas City Chiefs | -6 |
| Sunday, Nov 10, 2019 - NFL Football | | |
| | New York Giants | +3½ |
| | New York Jets | -3½ |
| Sunday, Nov 17, 2019 - NFL Football | | |
| | New England Patriots | +2½ |
| | Philadelphia Eagles | -2½ |
| Monday, Nov 18, 2019 - NFL Football | | |
| | Kansas City Chiefs | +1 |
| | Los Angeles Chargers | -1 |
| Sunday, Nov 24, 2019 - NFL Football | | |
| | Dallas Cowboys | +5½ |
| | New England Patriots | -5½ |
| Thursday, Dec 05, 2019 - NFL Football | | |
| | Dallas Cowboys | +2½ |
| | Chicago Bears | -2½ |
| Sunday, Dec 08, 2019 - NFL Football | | |
| | Kansas City Chiefs | +2½ |
| | New England Patriots | -2½ |
| Monday, Dec 16, 2019 - NFL Football | | |
| | Indianapolis Colts | +3½ |
| | New Orleans Saints | -3½ |
| Sunday, Dec 22, 2019 - NFL Football | | |
| | Pittsburgh Steelers | pk |
| | New York Jets | pk |
| | | |
| | Kansas City Chiefs | -1 |
| | Chicago Bears | +1 |
| Monday, Dec 23, 2019 - NFL Football | | |
| | Green Bay Packers | +3½ |
| | Minnesota Vikings | -3½ |