NBA Playoffs Boston vs Milwaukee Game 1 Free Pick
April 23, 2019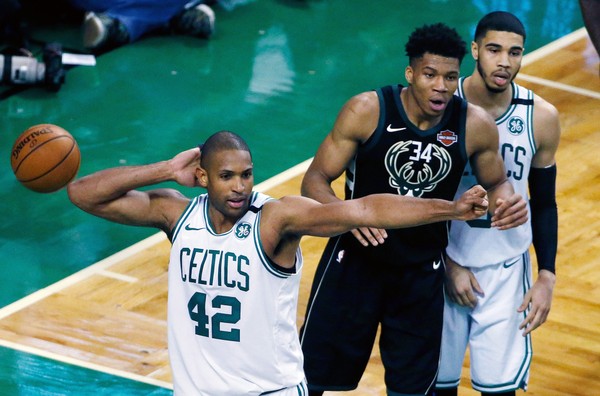 It is time for the rare free preview and pick from our in-house handicappers. While we focus mainly on sports betting news and odds, we like to preview and pick games from time to time. We have had relative success betting our own picks over the years.
You can catch our daily free pick at Free Picks USA
We hope you got last night's ATP play recommendation.
It was available only on our Twitter.
Utah won 107-91.
#NBA Utah +3 appears to be a good ATP (Against the Public) type play. 70+% of the public is on Houston for tickets and $. Line opened at -1 and has been bet to -3.

— Sportsbook Advisor (@bookieadvisor) April 22, 2019
This Bucks/Boston series sits way off on the horizon, as far as playoffs are concerned, because both teams swept their opponents in the first round. Other teams are still battling it out to decide who moves forward. If you look at the NBA playoff picture you can see that Boston swept Indiana and Milwaukee swept Detroit in what many are calling the worst playoff series in recent NBA history.
The series is a 2-2-1-1-1 schedule that has us starting on Sunday afternoon (April 28). The current sportsbook point spread has Milwaukee favored at home by 7.5 points and the total is sitting at 224.
In the regular season these two teams faced off three times. Milwaukee won two of those games. One of those Milwaukee wins was a 98-97 thriller. And of course, this is a rematch of last year's playoff battle between these two teams that went the distance. The home team won every game in that series. That begs the question, can a road team get a win in this year's matchup?
This year Milwaukee has home court advantage. They were 33-8 at home this season. They are one of the best home court teams in basketball. Boston, on the other hand, is just 20-21 on the road.  Very mediocre.
Boston is not the cream puff that Detroit was. We are on another level of basketball here. Not only that, but The Celtics are 20-14 all-time against the Bucks in the playoffs. In the six playoff series these teams have played against each other, The Celtics have won five of them. There is some real history here and this series should be a dogfight.
I know Milwaukee is great at home and they are on a tear right now, but Boston is a good team and they will step up their game. I think that taking the points in this game is the smart move. I will make Milwaukee prove to me they can beat a good team by 8 points or more in the playoffs. I am also leaning toward the OVER. I can see a final score that looks something like 120-117.