College Football Kickoff 2019 – Top Games for Week 1
May 20, 2019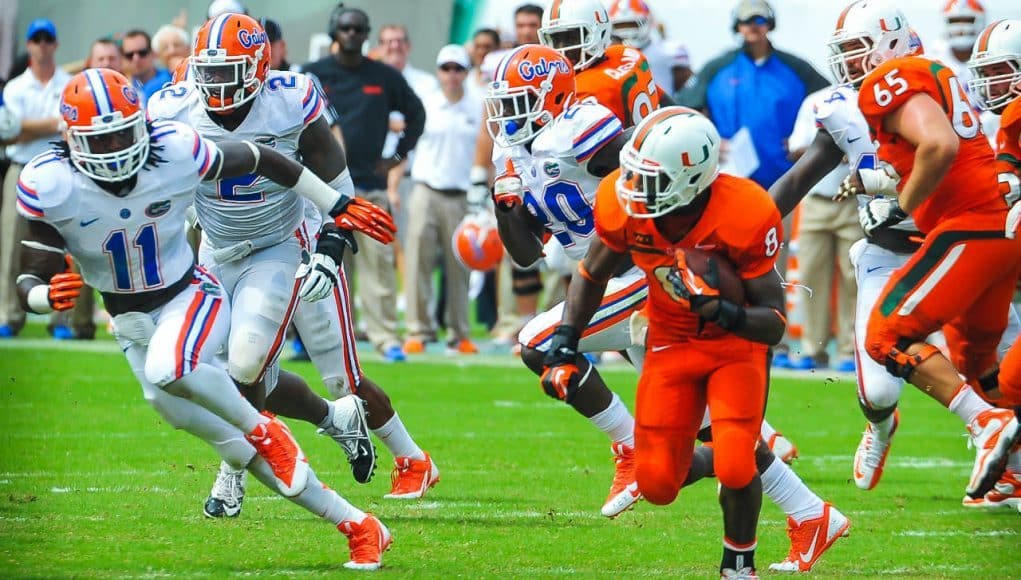 It's late May, which means we are now officially over the offseason hump. Only 3 months left until college football kickoff, so it's officially no longer too soon to be looking forward to what's in store for week 1 – and Saturdays that no longer suck….and this year, it starts off right.  Typically, week 1 (which has been the last week in August for the last several years), offers no more than a tease.  After 8 months of waiting, who really cares to see Prairie View at Rice?  Perhaps the Panther or Owl-faithful, but certainly nobody else.  Well, folks, this year the 2019 season premiere is something we can all get a little bit excited about.  The Miami Hurricanes and Florida Gators meet in Orlando at a neutral location on August 24th, in a matchup that should draw thousands from each side and the eyes of the nation.
The Hurricanes, who gained some momentum in the first half of last season (winning 5 in a row) after a 33-17 opening loss to LSU, fell off quickly, winning only 2 of their last 7 games that included a blowout loss to Wisconsin in the Pinstripe Bowl. 
The Gators, on the other hand – although not without some disappointment – dropped only 3 of their games and finished strong with 3 consecutive regular season wins and a huge 45-17 victory over Michigan in the Peach Bowl. 
Both teams look to start the season off right with a win that will really count week 1.  With Mark Richt having sailed off into the sunset for retirement, the Manny Diaz era officially begins at Miami and the uncertainty as to what that might look like looms.  Optimism for The Gators couldn't be much higher, though, with Dan Mullen returning for his second year as head coach after a quick turnaround and return to dominance in his very first season at the helm.
Have a look below for some of the most exciting week 1 matchups of the 2019 College Football Season, with some stats, preseason rankings, and early spreads.
Week 1
Miami vs 8 Florida – Camping World Stadium Orlando, Saturday, August 24th
Miami: 2018 record: 7-6 (4-4)
Florida: 2018 record: 10-3 (5-3)
Spread: Florida -7.5
Florida State vs Boise State – Jacksonville, Saturday August 31st
Florida State 2018 record: 5-7 (3-5)
Boise State 2018 record: 10-3 (7-1)
Spread: Florida State -4.5
23 Auburn vs 10 Oregon – Arlington, Saturday August 31st
Auburn 2018 record: 8-5 (3-5)
Oregon 2018 record: 9-4 (5-4)
Spread: Auburn -3
South Carolina vs North Carolina – Charlotte, Saturday August 31st
South Carolina 2018 record: 7-6 (4-4)
North Carolina 2018 record: 2-9 (1-7)
Spread: South Carolina -7.5
Weeks 2 and 3, although lined with the expected non-conference snoozers, bring a few fun matchups in LSU at Texas, Texas A&M at Clemson, Oklahoma at UCLA, Arizona State at Michigan State, and Stanford at USC …but in those first few weeks we'll take what we can get until late September when the Power 5 Monsters start clashing helmets in-conference.
Offshore sportsboooks are already carrying some of these lines and you are able to wager them now.
Check out the team win totals Over Unders for the 2019 NCAA football season.