Clemson Now Favored Over Alabama to Win Championship
May 25, 2019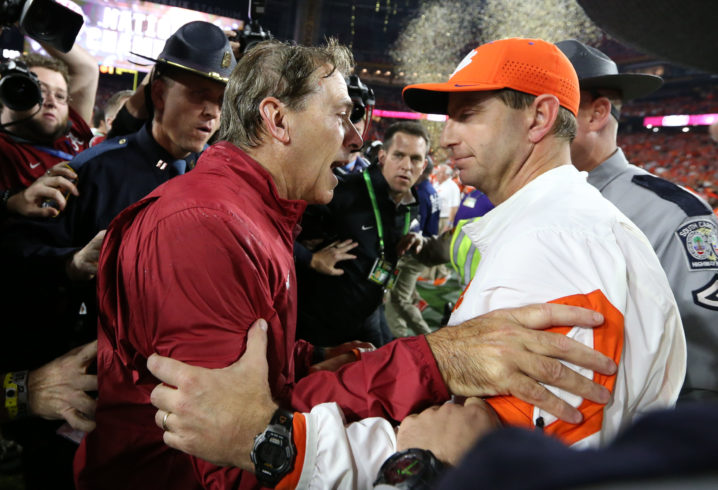 The odds are constantly moving according to how bets stream in. Furthermore, when news about a team breaks, such as injury or suspension, it can move the odds too. In the case of Clemson and Alabama, I think fans have a bit more confidence in the Tigers with the stud QB of theirs that seems that he can do no wrong. This shows in the fact that Clemson has just eclipsed Alabama as the favorite to win the championship (Both teams had the same odds from the start of the off season).
Alabama QB Tua whats-his-name is also very good and has won a championship himself. But the kid from Clemson has more upside being that he was a true freshmen and has the size and speed of a senior position player.
What the Future Holds
Some folks seem to think that Clemson HC Dabo Sweeney would leave Clemson to coach at Alabama, his Alma Mater. But to this notion Dabo responded: "My deal is to be great where I'm at. I had opportunities to leave Alabama. I had opportunities to leave Clemson. But I've just never been that guy about the next job. I'm about the job I've got." Of course, this was in 2015.
Now, 4 years and a couple championships later, with Nick Saban getting older and possibly seeing the writing on the wall, Dabo may be reconsidering. Here is a quote from Dabo earlier this year: "You don't ever say never. You don't ever know what the circumstances would be at any given time. First of all, Alabama may never, ever call me and I would never have a problem with that. They've got to do what they've got to do." – source Saturday Blitz
The Alabama distraction aside, you can bet that Dabo will stay at Clemson as long as his current QB is there (at least two more years). In my estimation he and his Tigers will win at least one (if not both) of those two championships. The other would probably go to Nick Saban and the Tide.
Both team's win total (Over/Under) at top online sportsbooks are 11 wins.
See complete team win total over under here
Here are the current Odds to Win the 2019 NCAA Football National Championship:
| Team | Odds |
| --- | --- |
| Clemson | +200 |
| Alabama | +225 |
| Georgia | +700 |
| Ohio State | +900 |
| Oklahoma | +1200 |
| Michigan | +1600 |
| Florida | +2500 |
| LSU | +2500 |
| Texas | +2500 |
| Notre Dame | +3300 |
| Oregon | +3300 |
| Penn State | +3300 |
| Auburn | +5000 |
| Nebraska | +5000 |
| Texas A&M | +5000 |
| Washington | +5000 |
| Wisconsin | +5000 |
| Miami FL | +6600 |
| Mississippi State | +6600 |
| USC | +10000 |
| Utah | +10000 |
| Virginia Tech | +10000 |
| Iowa | +15000 |
| Missouri | +15000 |
| UCF | +15000 |
| Kentucky | +25000 |
| Syracuse | +25000 |