Ruiz Defeats Joseph in Huge Boxing Upset
June 2, 2019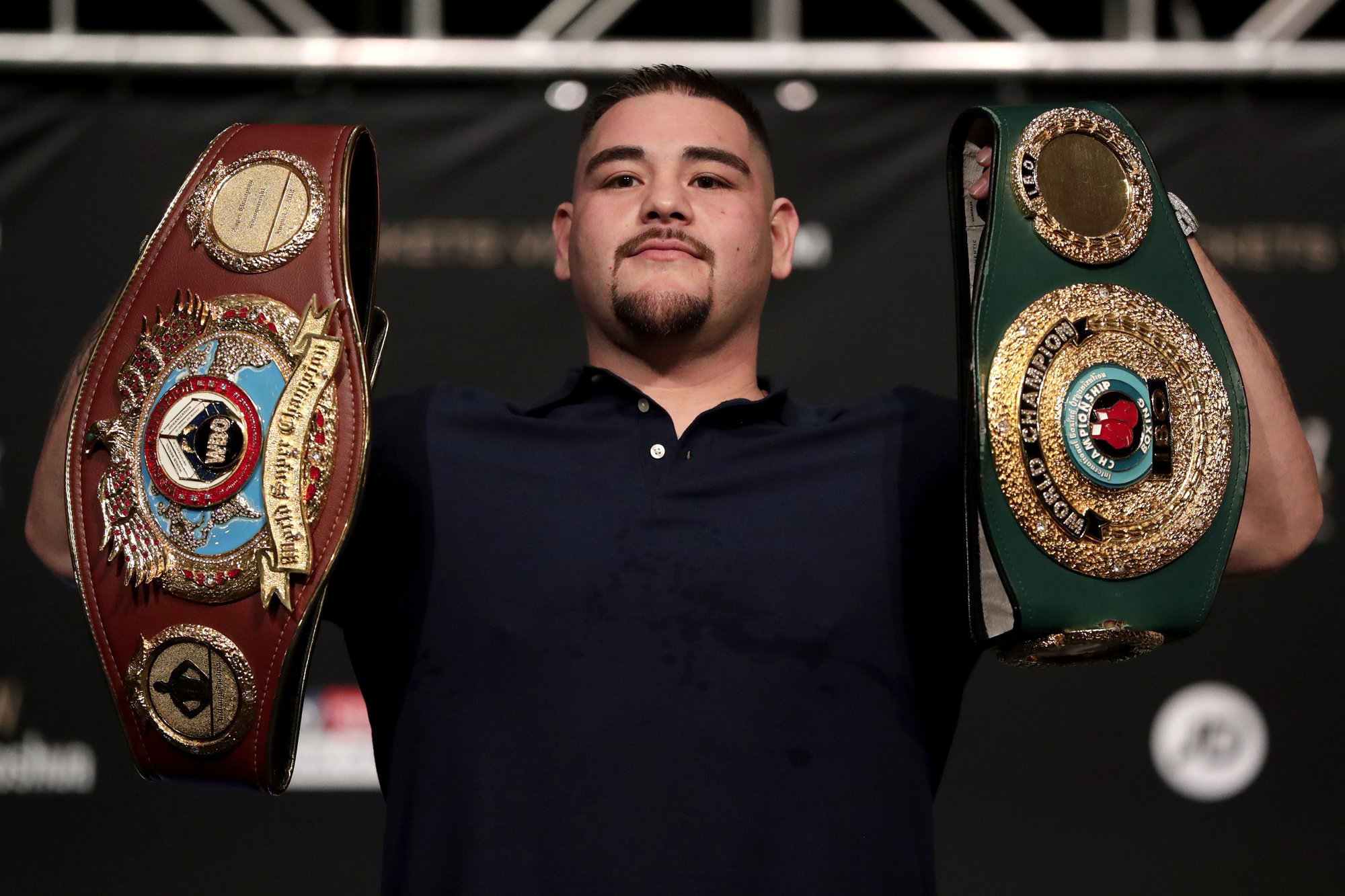 The fight tonight at Madison Square Gardens was overlooked by many casual boxing and betting fans. After all, Anthony Joseph was a 30-1 favorite to beat the chubby, and I'm being nice, Andy Ruiz Jr.
But things didn't go as planned for Joseph and his backers. The British heavyweight champion went down on a 7th round TKO. The fighter was clearly battered and exhausted when he went into his corner, sans mouthpiece, and started talking incoherently to referee Steve Willis. The ref waived his arms in the air and ended the fight.
(image: Ruiz holding up Joseph's belts in mocking fashion at press event. image courtesy of apnews.com)
Anthony Joseph scraped himself off the floor four times tonight and the last two knockdowns were back-to-back in the seventh round.
The loss of this fight is one of the larger upsets in modern heavyweight boxing history. When one thinks back to odds equal or greater upsets, the Buster Douglas 42-1 upset in 1990 has to instantly come to mind. And they would be correct in going back to that fight. Because it is the only upset that paid out higher odds than tonight's upset (42-1). Ruiz upsetting Joseph is already ranked the #2 upset in heavyweight boxing history.
Stay tuned boxing fans because Ruiz (33-1) is now a champion and is now planted firmly in the triad of champions (along with Tyson Fury and Deontay Wilder) battling it out to become the undisputed unified champion.
RECAP:

Round 3⃣: Joshua puts Ruiz Jr down
Round 3⃣: Ruiz Jr puts Joshua down
Round 3⃣: Ruiz Jr puts Joshua down
Round 7⃣: Ruiz Jr puts Joshua down
Round 7⃣: Ruiz Jr puts Joshua down
Round 7⃣: Referee STOPS the fight

🥇: Ruiz Jr wins the IBF, WBA, WBO, IBO world titles pic.twitter.com/XzQNT4fgTA

— BBC Sport (@BBCSport) June 2, 2019