2019 Cincinnati Bearcats Football Preview
July 10, 2019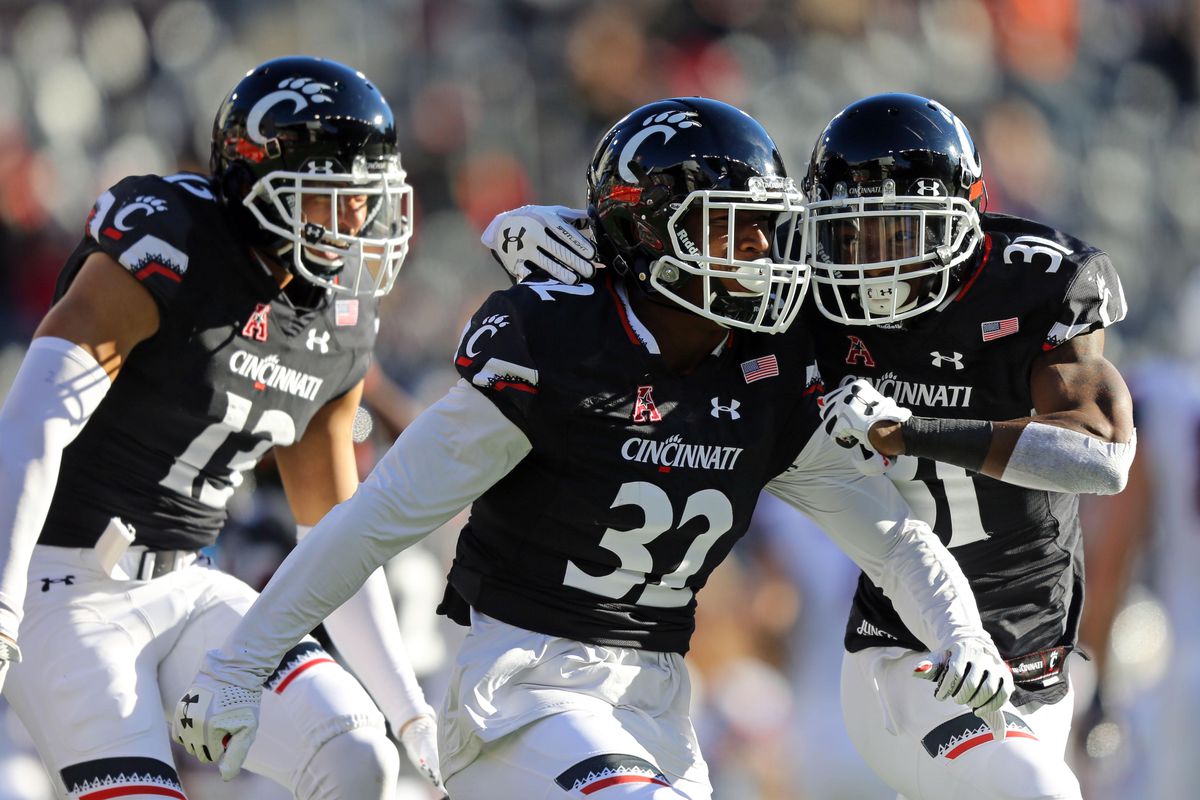 In this article we will go over the 2019 Cincinnati Bearcats team. We will then rate their defense, offense and overall team as: poor, fair, good or excellent. If there is a bunch of new talent that may play well, but we have no real gauge on them yet, we will rate that as "wildcard", in that they could surprise people with great play.
HC Luke Fickell is entering his third season as head coach. He is 15-10 coming into this year. The Bearcats were 11-2 last season. They had quite a great year. They ended the season by beating Virginia Tech in the Military Bowl.
Offense
The offense returns 8 starters from a team that went 11-2. Bearcat fans are very excited for the upcoming season. Returning QB Desmond Ridder threw for 2,445 yards and 20 TDs in 2018. He also rushed for 583 yards.
RB Michael Warren II is returning as well. He rushed for 1,329 yards and 19 TDs. Two starting WR are also back this year. This team is stacked on offense.
Verdict: Excellent
---
Defense
The defense is also returning 8 starters. This is one of the more experienced defenses in the AAC. Last season they allowed a league low 17.2 PPG. James Wiggins (pictured) at safety is a leader and intercepted four passes for Cincinnati last season.
We look for this defense to be dominant in the AAC but may struggle a tad against out-of-conference games against UCLA and Ohio State. But, I wouldn't be surprised if they were able to stifle those teams for much of the game.
Verdict: Excellent
---
Other Notes:
Cincinnati opens with two big tests:
August 29 vs UCLA
September 7 @ Ohio State
Special teams Punter James Smith is an All-American.
---
Conclusion:
The 2019 Bearcats have high hopes. They return most of the starters from a team that went 11-2. Once they get past their first two games it is pretty much smooth sailing with the exception of UCF, who they play at home on October 4th. If Cincinnati can somehow beat UCLA and Ohio State, we may be looking at an undefeated team that will be considered for the College football playoffs.
Verdict: Excellent
---
Betting:
Last season Cincinnati was 7-6 against the spread.
Game one has the Bearcats -3.5 points versus UCLA at online sportsbooks. They opened with UCLA last season and upset them in LA. The Bruins are much improved and should put up a great fight. The point spread is pretty much dead on accurate. But the early public action has been all over UCLA.
There is much excitement among betting fans over Chip Kelly and his team. They are looking for him to come to Cincinnati and defeat the Bearcats in front of 40,000 of their fans. I am not so sure. This single game is a tough one to handicap but I could see Cincinnati pulling out the win and cover here.
More importantly is the season win total. It is currency listed at just 6.5 wins. This seems pretty low to me considering all the returning talent and the schedule containing teams like: Miami (OH), Marshall, Tulsa, East Carolina, Connecticut, South Florida and Temple. Yes, they could drop one or two of these with some bad play but they could also beat UCF, Houston and/or Memphis with some good play. Over 6.5 feels like a really good bet.