Duke Blue Devils Football Team Preview 2019
July 17, 2019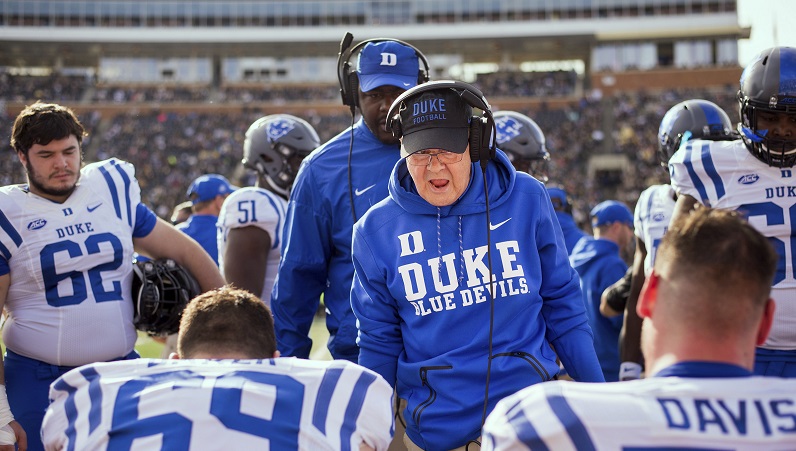 In this article we will preview and rate both offense and defense for the Duke Blue Devils football team. We will rate them on a scale of: good, poor, fair, good and excellent. The teams will be judged based on their returning talent, how they performed last season and coaching schemes.
The Dukies and their head coach of 12 years, David Cutcliffe, had a solid 2018 campaign. They went 8-5 overall and finished the season beating Temple in a bowl game. The Blue Devils will try to build on last season's success.
Offense
Duke's offense returns six starters from last year. Although QB Quentin Jones was not a starters, he did step in and play two games last year throwing for 376 yards, 6 TD's and zero picks. Jones's' receivers are all new to the starting lineup.
Running back Deon Jackson is a returning starter in the back field. He only managed 847 yards because he split time with Junior Brittain Brown. The running game is solid.
The offensive line is solid as well. They have four starters from last year playing. They are all 6'3″ and 310 ten pounds and plenty athletic.
The offense is good enough to run and score points. They lost their top QB to the draft so a lot will hinge on how good Quentin Jones plays. The lack of experience at receiver is of concern as well.
Verdict: Fair – Good
---
Defense
The defense returns six starters from last season. The strength of this D is the defensive backfield. All four of those players are returning.
The rush stopping ability of Duke was terrible last season. They allowed 209 PPG on the ground. They will have to shore up that problem if they want to have a competitive 2019 season.
With the the questionable run stopping power plus the good defensive backs, we have to say that the Duke defense is decent, but not good.
Verdict: Fair
---
Other Notes:
The Blue Devils were 7-6 against the spread in 2018.
Notable wins:
@Northwestern 21-7
@Georgia Tech 28-14
@ Miami FL 20-12
vs North Carolina 42-35
vs Temple (Bowl Game) 56-27
---
Conclusion
Although the Blue Devils are showing some real signs of improvement, they don't have enough on paper to say that they will improve from last season. The QB and receiver situations are a little murky. So is the ground rush defense.
Verdict: Fair
---
Betting
The sportsbook total win over under for the 2019 Duke Blue Devils is 5.5 wins. Looking at Duke's 2019 schedule, you can see it is a tough one. Other than a few cream puff teams, they play some very solid programs. They start week one against Alabama of all teams. Yikes.