Alabama Football Team Preview 2019
July 18, 2019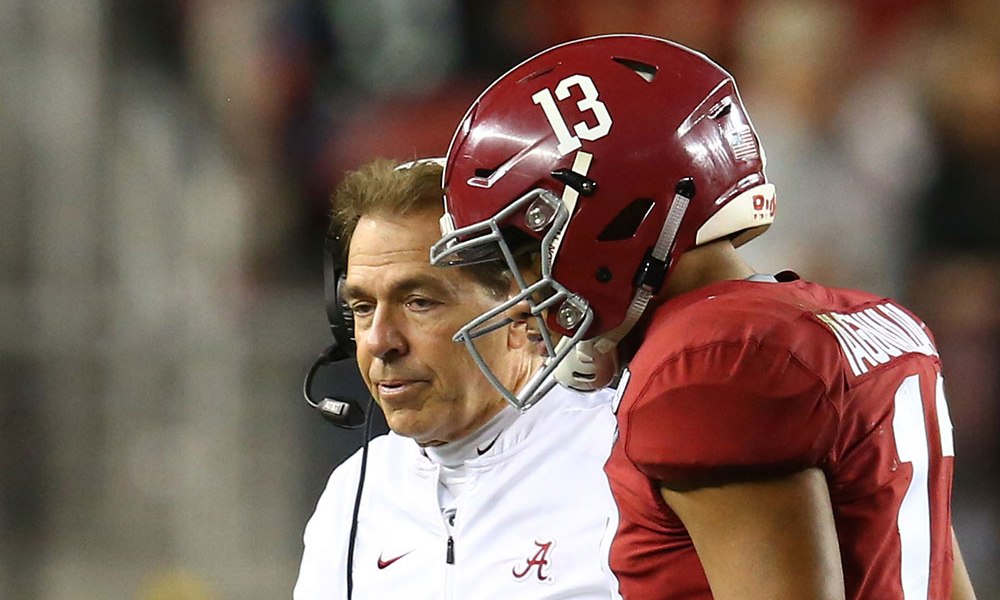 In this article we wil go over the offense and defense of the Alabama Crimson Tide football team and rate them either poor, fair, good and excellent. The purpose of this series of articles is to give sports bettors a quick reference guide that is handy when handicapping games.
The coach of Alabama, Nick Saban, is in his 13th season. His career record is 237-63-1. His offensive coordinator is Steve Sarkisian, same as it was in 2016 before Steve went on to be the OC at the Atlanta Falcons. Steve had a great year first year with Atlanta, taking them all the way to the Super Bowl. Last season the Falcons were miserable on offense so that spelled the end of his time in Atlanta. Saban brought him back in.
Offense
The Crimson Tide return 6 players on offense. The most notable returning player is their Heisman Trophy candidate Tua Tagovailoa. The then sophomore threw for 3,966 yards and 43 TD's all while completing 69% of his passes.
The Tide see the return of four WR's (three starting) who scored a combined 38 TD's. This corps was lead by Jerry Jeudy who caught 68 passes for 1,315 and 14 TD's.
Najee Harris will get the bulk of the carries at RB. Although not a starter last season, he managed to rack up 783 yards and score 4 TD's.
The O'line is anchored by pre-season all-American Guard Alex Leatherwood. Jedrick Willis Jr. is the other returning starter on this line. They will have to fill some spots left by exiting players but knowing Alabama, they are up for the task.
Bottom line is that this offense has all the tools to produce as well as they did last year when they were the number 3 overall offense in the land.
Verdict: Excellent
---
Defense
Defense returns seven starters from last year. In 2018, this defense kept opponents to just 18.1 PPG.
Alabama has three pre-season All-Americans in DE Raekwon Davis, ILB Dylan Moss and SS Xavier McKinney. This defense is stacked once again and should be hard for any offense to beat.
Anfernee Jennings lead the tide with 6.5 sacks in 2018, a number which he plans on increasing this year. He and Raekwon Davis have a bit of an unofficial contest to see who can get to the opposing signal-caller more. No word on what the winner gets.
Verdict: Excellent
---
Other Notes:
Alabama was out-gained on kick returns 825 yards to just 523 yards.
Alabama was +6 on turnover ratio in 2018.
Alabama is ranked number 2 preseason (behind Clemson) nationally.
Alabama was 8-7 against the spread in 2018, 14-1 straight up.
---
Conclusion
What can you say? Its Alabama. The team has been stocked and in contention to win it all for a decade straight. Saban and his staff have recruited some of the best talent in the country. Their only weakness appears to be Clemson, whom they only will see if both teams make it to the championship game again.
Verdict: Excellent
---
Betting
The Crimson Tide have a betting win total of 11 games at online sportsbooks. They have 12 regular season games scheduled. I cannot see this team losing more than one regular season game, if that. So, the Over 11 games seems to be the play here.
In their first game, Alabama will travel to North Carolina to do battle with Duke. The Blue Devils probably don't stand a chance to win this game. The spread is Alabama -30. I have no read on if this spread can be covered or not.
Down the Road
One game to look at is October 12th's game at Texas A&M. The Aggies have this game circled on their calendar for sure and you can bet the coaching staff, led by Jimbo Fisher (of FSU fame), will have something special planned for this one. Look for a Texas A&M cover if Alabama is laying double digits points.