Boston College Football Preview 2019
July 21, 2019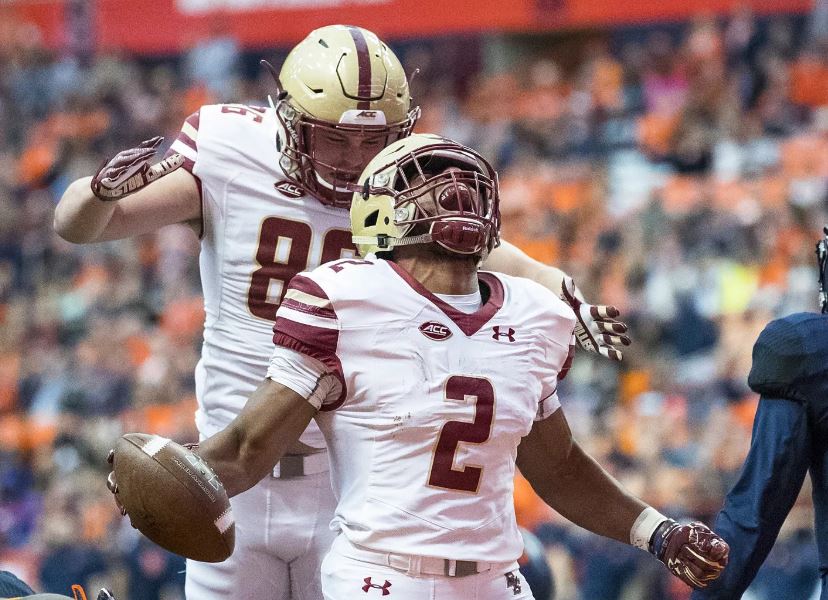 This article will rate the offense, defense and overall team of the 2019 Boston College Eagles. We will also look at the sportsbook win total and try to make a pick as to if the team will finish over or under that number.
Seventh year head coach Steve Addazio is 38-38 in his time at Boston College. He has had a winning record four of the last five seasons. His staff's hard work has paid off but now it is time to take the program to the next level.
Offense
The offense will be predicated around the run game this season. Preseason All-American running back AJ Dillon will get the majority of the carries. Last season he posted 1,108 and 10 TD's in ten games.
QB Anthony Brown is back for his third year as starting QB. He has improved every year. He threw for 11 TD's in 2017 and 20 TD's in 2018. Can we mark him down for 30 TD's in 2019? Probably not, but he will be a better player. They will probably have him running a bit more to option up AJ Dillon's game with the option.
Returning starter WR Kobay White will be the top WR in 2019. He caught 33 balls for 526 yards and 3 TD's last season.
The offensive line should be decent. Although they only have two returning starters, they are plugging in a senior, a sophomore and the freshmen they are adding is Tyler Vrabel, Mike Vrabel's son.
Verdict: Good
---
Defense
The Eagles defense only return four players this year. But, the guys filing the spots are mostly juniors and seniors.
The linebacking corps is solid. Isaiah McDuffie and Max Richardson should offer good run stopping power this season.
The secondary has three new faces in four spots. The guys that are coming up are pretty solid players.
The Eagles D allowed only three opponents to score more than 30 points in 2018. Their best performance was holding Miami FL to 14 points. But, they can be scored against. I don't feel comfortable calling this group good yet. This is a moniker they will have to earn.
Verdict: Fair
---
Other Notes
The Eagles were 7-5 straight up in 2018.
The Eagles were 7-5 against the spread in 2018.
Notable wins:
@Wake Forest 41-34
vs. Miami FL 27-14
---
Conclusion
The BC team will be looking to build on their 7-5 record from 2018. They will have a chance to do this with a veteran QB, WR and RB. I am not entirely sure the defense is good enough to keep them in some of these games. Looking at the Eagle's 2019 schedule you can see there are a few easy wins but the back half of the schedule is loaded with tough teams.
Verdict: Fair
---
Betting 
The sportsbook team win total for 2019 is 6.5 wins. This is a good number. If they finish under or over that number is a coin flip to me, no pick.
In Game one the Eagles face the Virginia Tech Hokies. The Hokies are favored by -2.5 points. The line seems just a tad low and there is a slight (56%) value on VT -2.5.