Auburn Football Preview 2019
July 26, 2019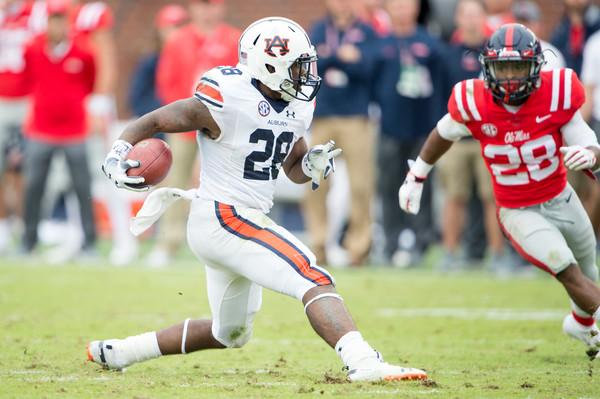 Updated: 12:01 am August 30, 2019
Gus Malzahn is in his seventh year as head coach of the Tigers. He is 53-27 in that tenure. Not a bad mark for an SEC coach. Gus has two offensive coordinators but he still calls the plays. Can the 2019 edition of Auburn football compete with the likes of Florida, Georgia, LSU and Alabama?
Offense
The Tigers will be starting a new QB this year. Jarrett Stidham is gone. Freshman Bo Nix has been named starter in game one against Oregon.
At running back is Jatarvious Whitlow (pictured). He had 787 with 6 TD's. He averaged 5.2 yards per carry and by all means looks to break the 1,000 yard mark in 2019.
The WR position sees zero returning starters. It will be led in 2019 by Seth Williams, who had only 26 catches last season.
A bright spot on offense is the offensive line. All five starters are back and they are a group of big strong seniors. This is by far Auburn's most talented position on offense.
Verdict: Wildcard
On paper, the team lacks experience. But with the promise of young talent filling the shoes of departing seniors, and the behemoth offensive line, good things may happen.
---
Defense
The defense under coordinator Kevin Steele looks solid. They return 7 starters from last season, including preseason All-American Derrick Brown at Tackle. The d'line is composed of a strong front four.
The linebacker position is untested. Three new starters will fill the roles here. There is promising young talent in this group but they need to prove they can stop the run.
The secondary is in good hands. All four starters are back, including senior safeties Daniel Thomas and Marlon Davidson. This group is the strength of the defense.
Verdict: Good
---
Other Notes
Auburn was 8-5 straight up in 2018.
Auburn was 6-7 against the spread in 2018.
2018 notable wins:
Washington 21-16
@ Ole Miss 31-16
Texas A&M 28-24
---
Conclusion
The 2019 edition of Auburn football is a solid group. There are some doubtful positions on the team. The Tigers really don't know what they are going to get from the QB position. The problem is that Auburn plays Florida, LSU, Georgia and Alabama. They may be able to knock off one or maybe even two of those but no more than that.
This is a good team in any other conference but in the SEC they are average.
Verdict: Fair
---
Betting
The win total for the 2019 Auburn Tigers is 8 games. You have to pick over or under 8 wins. I think the Under is a solid bet. Auburn schedule
Game one has them playing Oregon at a neutral field in Texas. Auburn is now favored by 4 points. The Oregon team is very good and Auburn is starting a rook. I'm taking Oregon +3 and a small play on Oregon straight up. Oregon all the way.