Oklahoma Football Preview 2019
July 30, 2019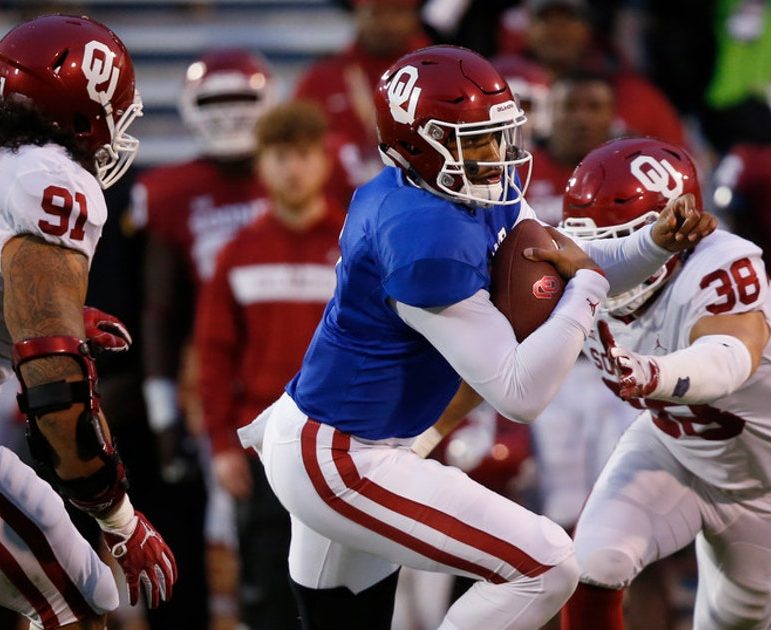 The Sooners are a perennial football powerhouse. Under third year head coach Lincoln Riley they have gone 24-4 overall. He and his Sooners look to continue this dominance in 2019 and maybe even reach for the national championship.
Offense
One of the more interesting stories in college football is the fact that former Alabama QB, and Heisman candidate, Jalen Hurts is now at Oklahoma. We have watched this young man play in many playoffs games and he is back for one last year to prove he still has the right stuff.
Joining Hurts in the backfield is Kennedy Brooks. The RB had over 1,000 yards and 12 TD's last year. Also, Trey Sermon will be in the backfield. He rushed for 947 yards and 13 TD's. To say the backfield at Oklahoma is packed is an understatement.
CeeDee Lamb returns at WR. The junior had 65 catches for 1,158 yards and 11 TDs in 2018.
This is about where the experience ends. The rest of the team, besides Center Creed Humphrey, are all new to the starting lineup. The line has some sophomores that will be starting. They will need to cut their teeth early and fast if Oklahoma is to compete with the likes of Clemson, Georgia and Alabama for a national title.
Verdict: Good – Excellent
---
Defense
The good news for the Sooners is that 11 players with starting experience are returning for 2019. The bad news is that last year these same players got gashed for 33 PPG and allowed 159.8 YPG rushing and 294 passing.
The guys from 2018 hope to be better and play better in 2019. The defense recorded just a mere 11 takeaways last season, which was next to last in the Big-12. This defense was 102nd in the nation is yards per play allowed (6.13). If the Sooners are to have a shot at the title, this group needs to improve, ALOT.
Verdict: Fair
---
Other Notes
Oklahoma was 11-2 straight up in 2018.
Oklahoma was 6-7 against the spread in 2018.
Notable wins:
@ TCU 52-27
vs Texas 39-27
Oklahoma outgained opponents on special teams by about 600 yards total.
---
Conclusion
This wil be an exciting year to watch Oklahoma. Plenty of points will be scored. The defense will probably allow a lot of points too. The Big 12 schedule isn't what it once was. Oklahoma will steam roll most everyone on their schedule. If this defense can keep teams from scoring over 30 points, they can win out every game. The offense should be good enough to make up for any shortcomings on the defense.
Verdict: Good – Excellent
---
Betting
The sportsbook win total for the Oklahoma Sooners is 10.5 games. I think the OVER is a solid wager. This team could possibly win them all.
Game one has the Sooners match up against the Houston Cougars. The point spread is Oklahoma -26 points. This seems a tad bit high to those of us here in the SBA office. We were thinking maybe OKL -21. The Sooners lack of being able to stop anyone last season mixed with Houston's dynamic offense should keep it a little closer than 26. Take Houston.