LSU Football Preview 2019
August 12, 2019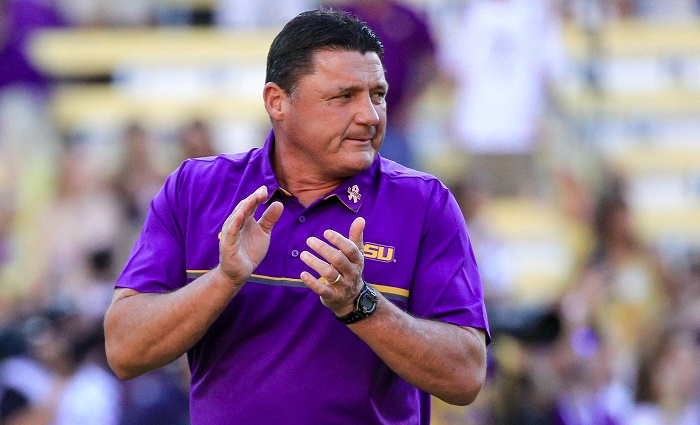 The Louisiana State University Tigers are in their fourth year with head coach Ed Orgeron. He has a 25-9 record at LSU. They are coming off of a 10-3 record in 2018. This is their best single season record in years.
In this article we will break down the offense and defense and then rank them both on a scale of: poor, fair, good and excellent.
Offense
The LSU Tigers offense sees the return of seven starters: this includes QB Joe Burrow, four offensive linemen and WR's Justine Jefferson and Ja'Marr Chase. Burrow threw for 2,894 yards and 16 TD's last year. Chase caught 54 of those passes for 875 yards and 6 TD's.
The real story of this offense is the line. You have four returning starters from a 10-3 campaign on this line and none of them are seniors. This is a great thing for LSU. The line is the most important group to an offense.
Running back C. Edwards-Helaire gets the starting nod in 2019. He enters this season after compiling 658 yards and 7 TD's in a non-starting role in 2018.
This offense looks like it will be very good. I think you will see a lot of ground and pound football and ball control offense from this group.
Verdict: Excellent
---
Defense
Eight starters are back for this LSU team. This group allowed only 21.8 points per game in 2018. This year should be even better. SS Grant Delpit is a pre-season All-American and an NFL prospect. He had five interceptions last year.
Linebacker is the only position that doesn't have a lot of experience. Two new starters will take the field at LB. But LSU runs a 3-4 defense and two of the LB's are returning starters. This group will be fine.
This defense could be the best in the SEC. Time will tell. But in my mind they are one of the better defensive groups in the entire country.
Verdict: Excellent
---
Other Notes:
LSU was 7-6 against the spread in 2018.
LSU dominated on special teams coverage only allowing 190 total yards.
LSU gained 543 yards on special teams.
LSU was +12 in turnovers for 2018.
2018 notable wins:
Miami FL 33-17
at Auburn 22-21
vs Georgia 36-16
vs Miss State 19-3
vs UCF 40-32
---
Conclusion
I am expecting big things from LSU in 2019. Their schedule is no cake walk. But if they can play like they did in 2018, they will win 10-11 ballgames in the regular season. This could be a playoff caliber team.
Verdict: Excellent
---
Betting
Sportsbooks have the win total at 9 games. I think Over 9 games is a solid bet. LSU could easily be 5-0 heading to game 6 vs Florida. This will be one hell of a game.