Michigan State Football Preview 2019
August 19, 2019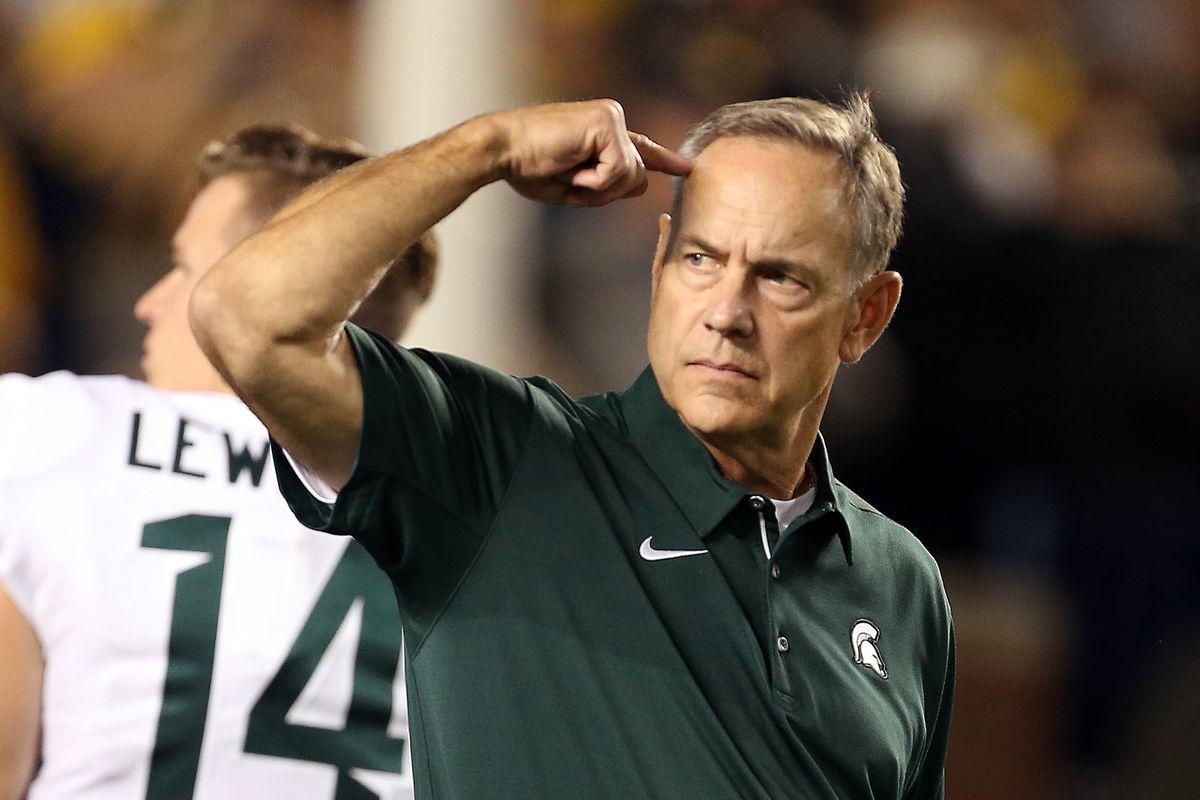 13th year head coach Mark Dantonio has made Michigan State into a solid force in the Big Ten every year. They can compete with any team in the Big Ten any given year, but can't seem to put it all together in one year to win the conference.
In this article we will preview the offense and defense of the Michigan State Spartans. We will then rate them on a scale of : poor, fair, good and excellent. We may also use the rating "wildcard" if we think the team has the capability of greatness but has not proved it yet.
Offense
Ten starters are coming back this year. That is a huge number. When you have that many players returning, it benefits you in several ways. The players have a ton of real game experience. But they also have played with one another and have "gelled" so-to-speak. Football teams can skip over the "try out" phase and get right into the meat and potatoes of their offensive scheme.
QB Brian Lewerke has been average. He threw for more ints than TD's in 2018. He will need to improve his game if the Spartans are going to be Big Ten Champs.
RB Connor Heyward started some last year but mostly in a relief capacity when star RB LJ Scott was hurt.
The entire OL is big, experienced and hungry. This should be a positive part of the offense this year.
WR Cody White is back to lead this receiver corps. He caught 42 passes for 555 yards and 2 TD's last year.
In conclusion I want to say that this offense has lots of potential. They have the foundations to be good but they have not proven that they are. I will give this offense a rating of "wildcard". If they come out and play like they are capable, then they win most of their games this year.
Verdict: Wildcard
---
Defense
The defense was outstanding in 2018. They led the country in rushing defense and the Big Ten in scoring defense. Sparty has seven returning starters from that group, including pre-season All-American DE Kenny Willekes. He sacked the opposing QB 8.5 times in 2018. They also have pre-season All-American Joe Bachie at middle linebacker. He had 102 total tackles last season.
The CB's are new to the starting role but have had plenty of snaps. They should be fine. Safety positions are also good to go.
The Spartan defense should again be an upper-echelon team. Look for them to keep most of their opponents under 20 points again for 2019.
Verdict: Excellent
---
Notes:
Michigan State was 7-6 straight up in 2018.
Michigan State was 4-9 against the spread at sportsbooks in 2018. See all teams ATS for 2018
Notable wins:
---
Conclusion
Michigan State needs to beat their conference rivals this year. Many of this teams starters are seniors and this kind of feels like a do-or-die situation for coach Dantonio. If this team isn't at least in the big Ten title game I can see the school and Dantonio parting ways.
The defense will be dominant and behind the veteran offensive line I can see Michigan State's offense being pretty solid. If they can play mistake free football they will win a lot of ball games this year.
Verdict: Wildcard
---
Betting
The total win over-under is 7.5 games. I can see this team surprising a lot of folks and winning 9 or 10 ball games. The schedule is pretty tough. But I think they can actually beat Ohio State, Wisconsin and Penn State. I know I am way out on a limb here. So be it.