NFL Week 4 Point Spreads
September 23, 2019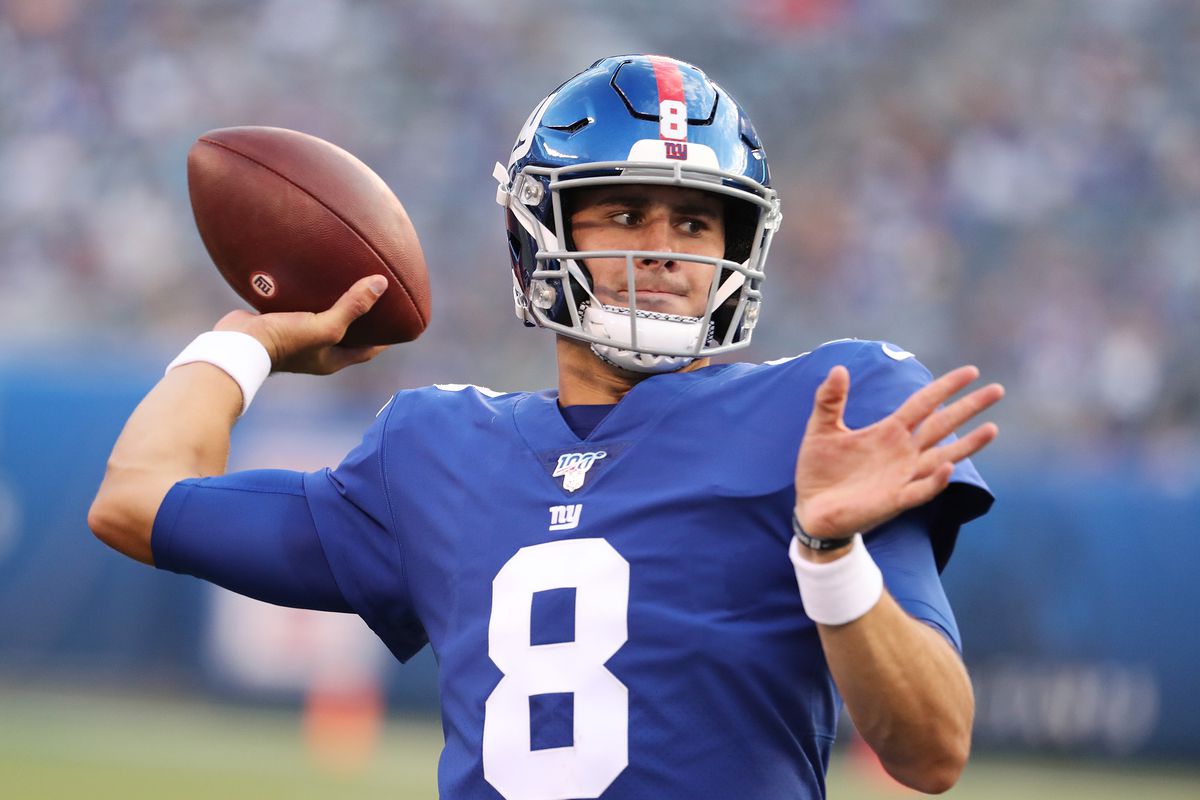 Week 3 of NFL action is almost in the books. But that doesnt stop competitive sportsbooks from publishing lines for week 4. Even the Chicago Bears, who play tonight to cap off week 3, have an opening line vs Minnesota. Also, The Redskins, who also play tonight, have a line available for their game at NY Giants next weekend.
A few surprises from week 3 definitely affected this weeks lines. The Saints going up to Seattle and beating them with the back-up QB surprised many people. Had they lost, you can bet that Dallas would be favored by more than a FG at New Orleans in this upcoming game.
The first game of rookie QB Daniel Jones with the NY Giants was a success. The kid ran for two TD's and passed for another two in his first game, beating the Bucs in Tampa. Now, all the people that were bashing the Giants for drafting him will pretend they didn't. The NY Giants are -3 vs Washington as of right now. This may change depending on how the Redskins play tonight.
To see all the NFL scores from this weekend click here.
NFL Week 4 Point Spreads
| Date | Time (ET) | Away Team | Home Team | Total |
| --- | --- | --- | --- | --- |
| Thu Sep 26 | 8:20 pm | Philadelphia Eagles +4.5 | Green Bay Packers -4.5 | 45 |
| Sun Sep 29 | 1:00 pm | Carolina Panthers +5 | Houston Texans -5 | 46 |
| | 1:00 pm | Cleveland Browns +7 | Baltimore Ravens -7 | 46.5 |
| | 1:00 pm | Kansas City Chiefs -6.5 | Detroit Lions +6.5 | 54 |
| | 1:00 pm | Los Angeles Chargers -16.5 | Miami Dolphins +16.5 | 44.5 |
| | 1:00 pm | New England Patriots -7 | Buffalo Bills +7 | 43.5 |
| | 1:00 pm | Oakland Raiders +6.5 | Indianapolis Colts -6.5 | 44.5 |
| | 1:00 pm | Tennessee Titans +3.5 | Atlanta Falcons -3.5 | 45.5 |
| | 1:00 pm | Washington Redskins +3 | New York Giants -3 | 49 |
| | 4:05 pm | Seattle Seahawks -4.5 | Arizona Cardinals +4.5 | 47.5 |
| | 4:05 pm | Tampa Bay Buccaneers +10 | Los Angeles Rams -10 | 50.5 |
| | 4:25 pm | Jacksonville Jaguars +3 | Denver Broncos -3 | 38.5 |
| | 4:25 pm | Minnesota Vikings +2.5 | Chicago Bears -2.5 | 38 |
| | 8:20 pm | Dallas Cowboys -3 | New Orleans Saints +3 | 47 |
| Mon Sep 30 | 8:15 pm | Cincinnati Bengals +4.5 | Pittsburgh Steelers -4.5 | 43.5 |
For updated lines throughout the week check out our lines page at SBAODDS.com