49ers vs Browns Monday Night Football Free Pick
October 5, 2019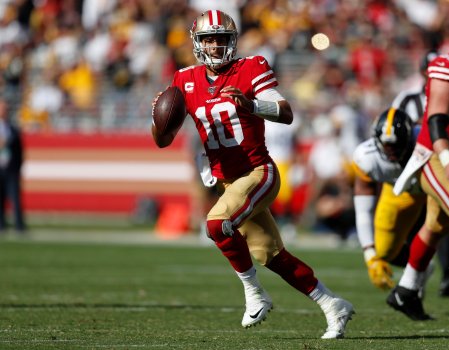 One of the more interesting games on the NFL board this weekend is the Monday Night feature. The 2-2 Cleveland Browns are visiting the undefeated 3-0 San Francisco 49ers. The sportsbook point spread is S.F. -4 and the total is 47 points.
The Niners are off to a relatively surprising start having defeated the Bucs, the Bengals and the Steelers. It should be noted that these are not the toughest teams in the NFL. Cleveland will be their first good opponent. For those of you thinking "Hey, they beat the Bucs", don't let the Bucs beating the Rams last week sway you to believe the Bucs are good. They are streaky and that is all.
The Browns have been a little bit of a let down for their fans. After picking up a bunch of talent in the offseason, being .500 is considered a disappointment. But that's why they play 16 games. The Browns will play better. Last weekend they showed what they were capable of by going into Baltimore and firmly beating the Ravens 40-25.
So how exactly do these two teams match up in this early 2019 season?
The 49ers have a good defense. And they will need it. The Browns seem to be getting their "S" together. RB Chubb is in peak condition and WR Jarvis Landry is making big plays.
The Browns defense has allowed over 22 PPG but DE super stud Myles Garret should be able to disrupt SF QB Jimmy Garappolo's timing. If they can get three or more sacks on Garoppolo and get him panicked, they can win the game outright.
Distance Factor
Sometimes it is a good idea to consider the distance a team must travel to play their opponent when handicapping a game. It is 2500 miles from Cleveland to San Fran. However, because this is a MNF game, the Browns have had plenty of time to get there and get situated. If this were a short week, this factor would definitely be worth a point or a point and a half.
We like the Browns +4 in this matchup. Four points is a lot of points to give a team that is heating up and could possibly win out right. The records and the location of the game dictate that the 49ers be favored by 3-5 points. But, in actuality this thing feels more like a "pick em'" to me.
Here are some others trends to consider when betting this game:
San Francisco is 7-17 ATS in its last 24 games at home
San Francisco is 8-16 SU in its last 24 games at home
Cleveland is 5-1 ATS in its last 6 games on the road
Cleveland is 4-2 SU in its last 6 games on the road
Take the Brownies plus the points and if you are feeling extra lucky maybe put something smaller on the Browns moneyline. The online sportsbooks currently have the Browns +180