NCAAF Title Odds – Bama Even with Clemson – Ohio State Over Georgia
October 7, 2019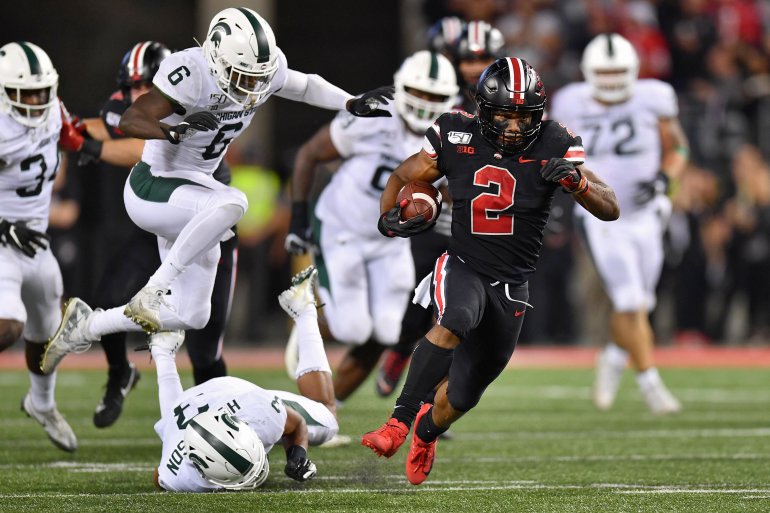 There was again some movement this week in the college football championship odds picture.
Alabama and Clemson are now exactly even odds to win it all at +225. Last week Bama was sightly shorter odds.
Ohio State, after smashing #25 Michigan State has moved into the sole position at #3 with +550 odds. I think that is still a valuable price to buy in at.
Auburn losing to Florida drops them from +2500 to +5000
There are still some decent bargains on the board. Penn State at +3300 and Florida +2000 are intriguing. Both have to play higher ranked teams in the near future.
Now is the time to pick your sleeper or underdog play though. The upcoming few weeks will definitely sort out the teams and if your underdog wins their odds will be cut by half.
| Teams | Odds |
| --- | --- |
| Alabama | +275 |
| Clemson | +275 |
| Ohio State | +550 |
| Georgia | +700 |
| LSU | +700 |
| Oklahoma | +900 |
| Florida | +2000 |
| Wisconsin | +2500 |
| Penn State | +3300 |
| Michigan | +4000 |
| Utah | +4000 |
| Auburn | +5000 |
| Notre Dame | +5000 |
| Oregon | +5000 |
| Texas | +5000 |
| Baylor | +10000 |
| Boise State | +10000 |
| SMU | +10000 |
| Texas A&M | +10000 |
| Arizona State | +15000 |
| Iowa | +15000 |
| Minnesota | +15000 |
| Michigan State | +25000 |
| Washington | +25000 |
| Oklahoma State | +50000 |
| Virginia | +50000 |