NBA MVP Odds – Giannis vs Lebron
March 4, 2020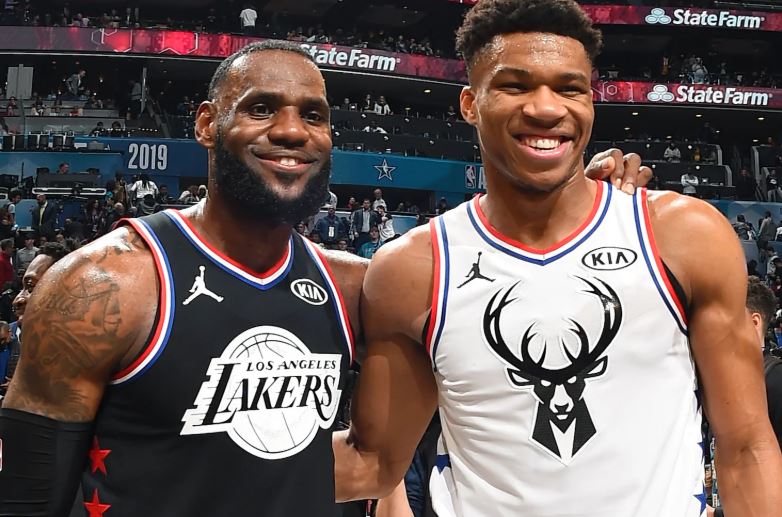 The NBA basketball season is nearing its end. Many of the playoff teams are set and most of the scoring and rebounding has been done and logged in the books. Although MVP and ROY awards are not solely stat based, they do play a major role in determining the winner. A players ability to lead a team and carry it through tough patches and play well with other players is also just as important.
In 2020 there is a heavy favorite to win the MVP award. His name is Giannis Antetokounmpo. He has led his team to the best overall record in the NBA and his Bucks are favored to win it all (+225).
Lebron James is in the MVP conversation every single year and 2020 is no different. His Lakers are the best in West and are second place favorites to win it all (+275). The odds are we will see the Lakers take on the Bucks in the Finals. It will be a great series.
Lets compare Lebron's and Giannis' 2020 stats

| Player | Points | Rebounds | Assists |
| --- | --- | --- | --- |
| Lebron James | 25.4 | 7.8 | 10.7 |
| Giannis Antetokounmpo | 29.6 | 13.8 | 5.8 |
It can be argued that Lebron leading the entire league in assists and scoring 25 points per game is more impressive than some MVP's of past seasons. But you have a guy in Giannis that scores 30 PPG and nabs 14 rebounds! These are eye-popping numbers.
Both players have done plenty enough as far as helping their team achieve success, so that part is not in question. Giannis most certainly will win the award but the price is high. At -800, is it really worth it? There is a slight chance that the voters could go with Lebron. At +700 Lebron may be worth throwing 50 bucks on.
MVP Odds – Odds from BetOnline
| Players | Odds |
| --- | --- |
| Giannis Antetokounmpo | -800 |
| Lebron James | +700 |
| Luka Doncic | +1000 |
| James Harden | +1200 |
| Anthony Davis | +2500 |
| Damian Lillard | +2800 |
| Kawhi Leonard | +3300 |