NBA Finals Preview? Lakers vs Bucks Free Pick
March 6, 2020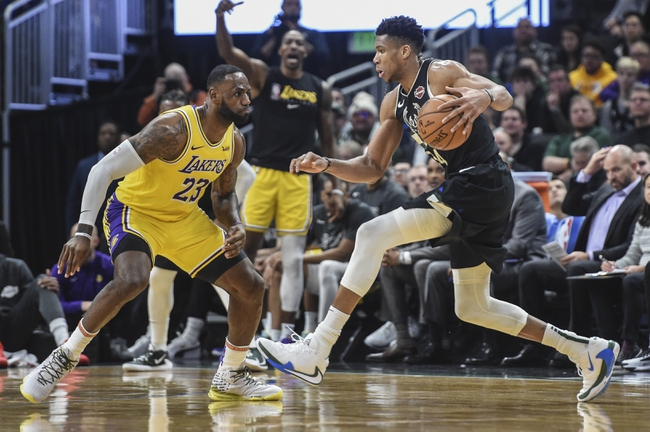 Tonight there is a pretty big game happening in the NBA. Two nights in a row the NBA has been able to feature the top sports news stories. Last night Steph Cury made his return to the NBA after a serious injury. And tonight, the two best teams in the NBA face off in what many think will be a preview of the NBA Finals matchup.
The game also features the two top candidates for MVP, though Giannis is a heavy favorite over #2 Lebron James in the odds order. Click the link in this paragraph for a full break down of the odds and stats for each player.
The point spread for Lakers vs Milwaukee was issued last night at a Pick em'. But the line has since shifted to Lakers -1.5 points. The total is listed at 228 points. About 65% of the action has been bet on the Lakers, hence the line movement.
Match Up
Coming into the game the Bucks have the best overall record in the NBA with an amazing 53-9 mark. They are 36-26 against the spread this season and 17-14 ATS on the road. They score 119 points and allow 106.
The Lakers are 47-13 straight up. They are 33-26-1 ATS and 16-12-1 ATS at home. The Lakers score 114 points and allow 107.
Nearly all the numbers are pretty even and match up well. The only number that is different is the amount of points that Milwaukee scores, averaging the 5 PPG more than the Lakers.
Trends
Sometimes it is helpful to look at trends. They don't always guarantee that the trend will continue but you can see which teams have had trouble with which teams and vice-versa. There are some pretty clear trends in this matchup.
The Lakers are 17-7 SU in its last 24 games when playing at home against Milwaukee. But the Lakers are just 5-9-1 ATS in their last 15 match-ups and 0-5 in their last 5 match-up, 3 of which have taken place in the last year.
Conclusion
You can bet both teams and star players will be amped for this one. Both teams want to notch this game on their belt before the playoffs begin. It should be pretty exciting. I look for the Lakers to pull out the win at home. Anthony Davis along with Lebron should be able to get behind the home fans and hand the Bucks their tenth loss of the season. If you are looking to throw down some action on this game look at the top ranked sportsbooks. Each has its own unique bonus offer and all have great customer service.