Big Ten Basketball Tournament Odds
March 10, 2020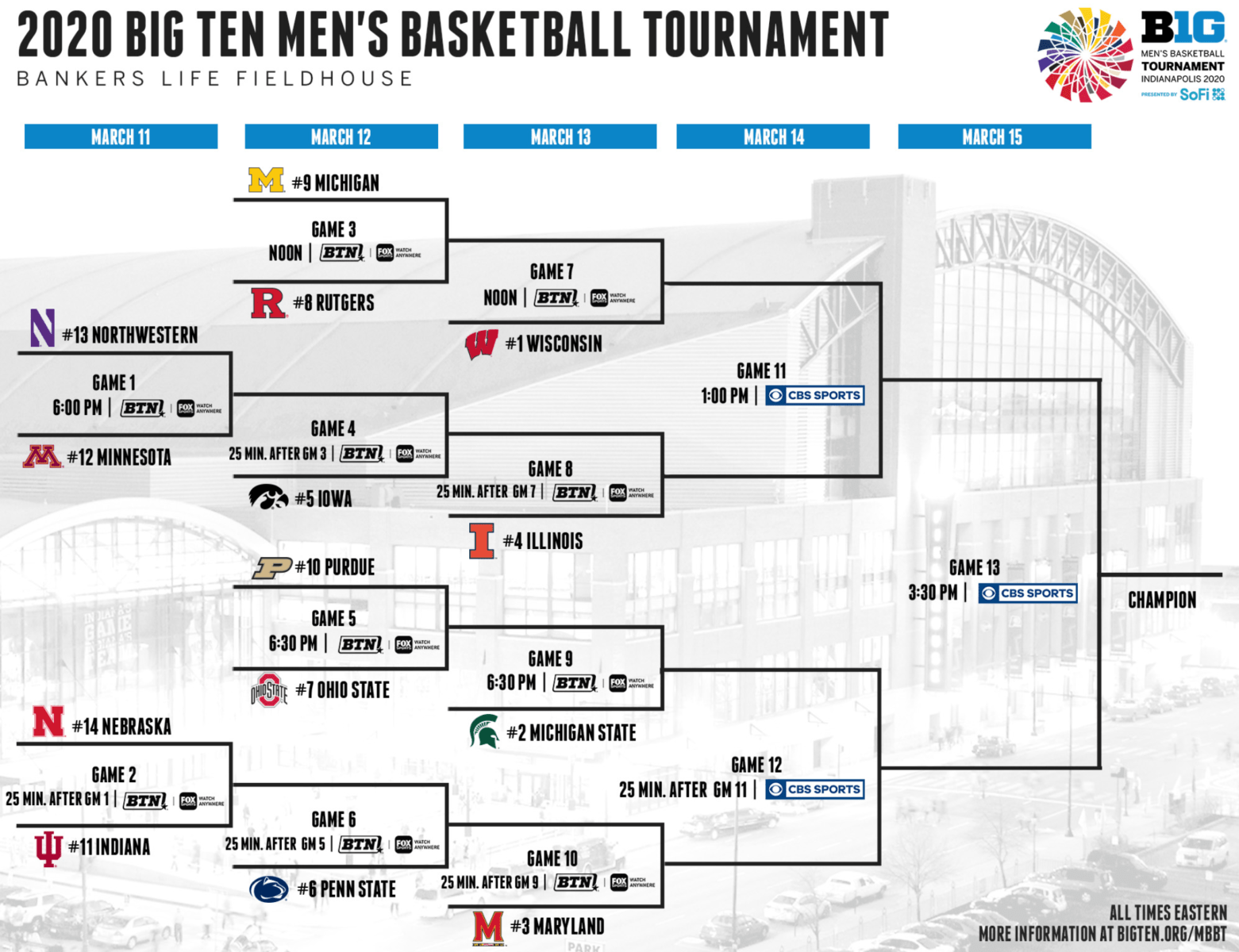 Tomorrow March 11, the Big Ten starts their tournament at 6pm ET. You can view or print the tournament bracket here. The first game features Minnesota (-8.5) vs Northwestern. 25 minutes after the conclusion of that game fans can watch Indiana (-12.5) vs Nebraska.
The Top seed in the tournament is Wisconsin who comes in with their very impressive 8 game win streak. They are hot as lightning right now. However they are not favored to win the tournament. Even though they are tied with Maryland and Michigan State with a 14-6 conference record they are listed eight in the odds (at +1000) to win this tournament.
Michigan State, who is on a five game win streak is the overall favorite (+300). With LTom Izzo's experience and post-season achievements, sports bettors feel more comfortable putting their money on his Spartans.
When looking at college basketball's top 25 you can see five Big Ten teams represented. Although impressive, only one team from the conference is in the top 10. That is #7 Michigan State. The Spartans are the safe bet to win this tournament but if you are looking for the longer odds, Wisconsin and their 8 game streak is a solid enough pick.
2020 Big Ten Tournament Odds 
Below we have listed odds from two of the web's very best sportsbooks. Odds shopping will help you get the most payback for your risked money.
| Team | BetOnline.ag | YouWager.lv |
| --- | --- | --- |
| Michigan State Spartans | +275 | +300 |
| Maryland Terrapins | +400 | +350 |
| Michigan Wolverines | +600 | +600 |
| Wisconsin Badgers | +600 | +1000 |
| Iowa Hawkeyes | +800 | +900 |
| Ohio State Buckeyes | +800 | +850 |
| Rutgers Scarlet Knights | +800 | +700 |
| Illinois Fighting Illini | +900 | +1000 |
| Penn State Nittany Lions | +1000 | +550 |
| Purdue Boilermakers | +2000 | +2500 |
| Minnesota Golden Gophers | +3300 | +4000 |
| Indiana Hoosiers | +4000 | +3300 |
| Nebraska Cornhuskers | +15000 | +20000 |
| Northwestern Wildcats | +15000 | +20000 |