Tua's Brother Enters Transfer Portal – Odds Where He Will End Up
May 11, 2020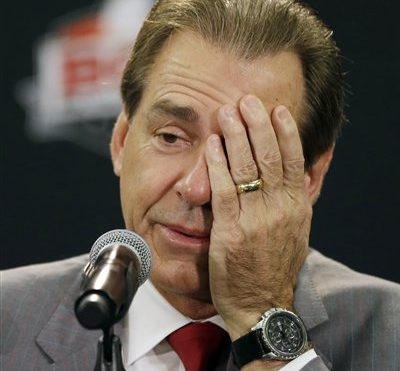 Updated May 16, 2020 – Taulia Tagovailoa chose Maryland. If you had Maryland at +350 congratulations.
We're not sure what is happening in Tuscaloosa but it doesn't look good for Tide fans. Players transferring out of the University of Alabama seem to be the trend. Cornerback Scooby Carter and tight end Giles Amos have already entered the portal this offseason and now the younger brother of superstar Tua Taglovilia, and heir-apparent at the QB position, has been added to that list.
Taulia Tagovailoa entered the transfer portal on Friday. This is a decision that was not done on impulse. His family is currently in Alabama and is there as a support system. They are very likely to move with him wherever he ends up.
The young player and his family must not have liked the writing on the wall.  Red-shirt Junior QB Mac Jones comes into this season as the player favored to start. He filled in for the older brother Tua last season. The older Tua had a 2019 season marred by injury. A fact that caused him to drop from number 1 overall pick to number 5 (drafted by the Miami Dolphins).
So, where will the younger Tagovailoa end up? Here are the locations and current odds.
Miami Hurricanes +200
This is the number 1 overall favorite for him to land. His brother is now in Miami and the Hurricanes seem like a great fit for him as well. He will be behind D'Eriq King for one season then the job will most likely be all his.
Maryland +350
Head Coach Mike Locksley was Albama's OC during the years that Taulia committed to Alabama. He could be following his old OC to the Terrapin State.
Florida Atlantic +500
This school is high on the list because it is also a Miami FL based school. Willie Taggart has taken over the reigns for FAU after being fired from FSU. FAU has been slowly building a competitive program and they have gone after some big players and coaches in recent years.
South Florida +700
Again, the location is Florida. His brother is a three hour drive away from Tampa and the South Florida program is competitive every year. Personally I don't see this being his choice.
UFC +900
A school that is growing in strength and even had an undefeated season a few years ago, UCF would be a strong fit for the young Taglovailoa. Just a 3.5 hour drive from Miami, a one hour flight from MCO to MIA.
Oregon +1000
This would be a great place for Taulia to showcase his skill set on a national level. He would be a perfect fit for this offense. But the fact that it is entirely on the other side of the country makes it a longer shot odds-wise.
Hawaii +1500
For obvious reasons, Hawaii is on this list. However, the Warriors have not been very successful in recent years and this would definitely be a downgrade as far as publicity is concerned.
Auburn +2000
Another Alabama school, this would be a great offense for him. However, the school seems pretty convinced it has its next star QB in Bo Nix, who is only a sophomore. Auburn is a long-shot.