NFL Second Chance Survivor Contest
October 2, 2020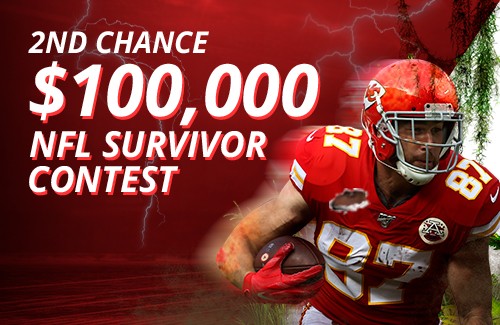 Are you already out of your survivor pool? Do you need a second chance? Good. BetOnline is offering a winner-take-all second chance survivor contest. And its for $100,000!
Each entry is $25. You can buy multiple entries up to 25 total. The price lowers the more you buy. Here si the pricing break down:
| | |
| --- | --- |
| One Entry: | $25 |
| Entries 2-5: | $20 each |
| Entries 6-10: | $15 each |
| Entries 11-25: | $10 each |
The contest on Monday, Oct. 12 at 8:10pm (ET). So get in now.
As you probably know, survivor contests are where you pick one NFL team per week. If that team wins you move on to the next week. If it loses, you are out of the contest. The caveat is that you cannot use the same team twice. So, you must think long term.
The contest ends on Week 17 of the 2020 NFL season, or when there is only one contestant remaining; whichever comes first. i.e.: If three contestants remain in Week 15 and two contestants select losing teams, the remaining contestant is declared the winner.
If multiple contestants remain alive after Week 17, they will split the $100,000 evenly. Good Luck!
To enter:
signup or log in at BetOnline
Deposit of have at least $25 available.
Click "contests" from main menu.
Click "2nd Chance $100,000 NFL Survivor Contest"
Enter Picks
Good Luck!