Rose Bowl Free Pick – Alabama vs Notre Dame
December 30, 2020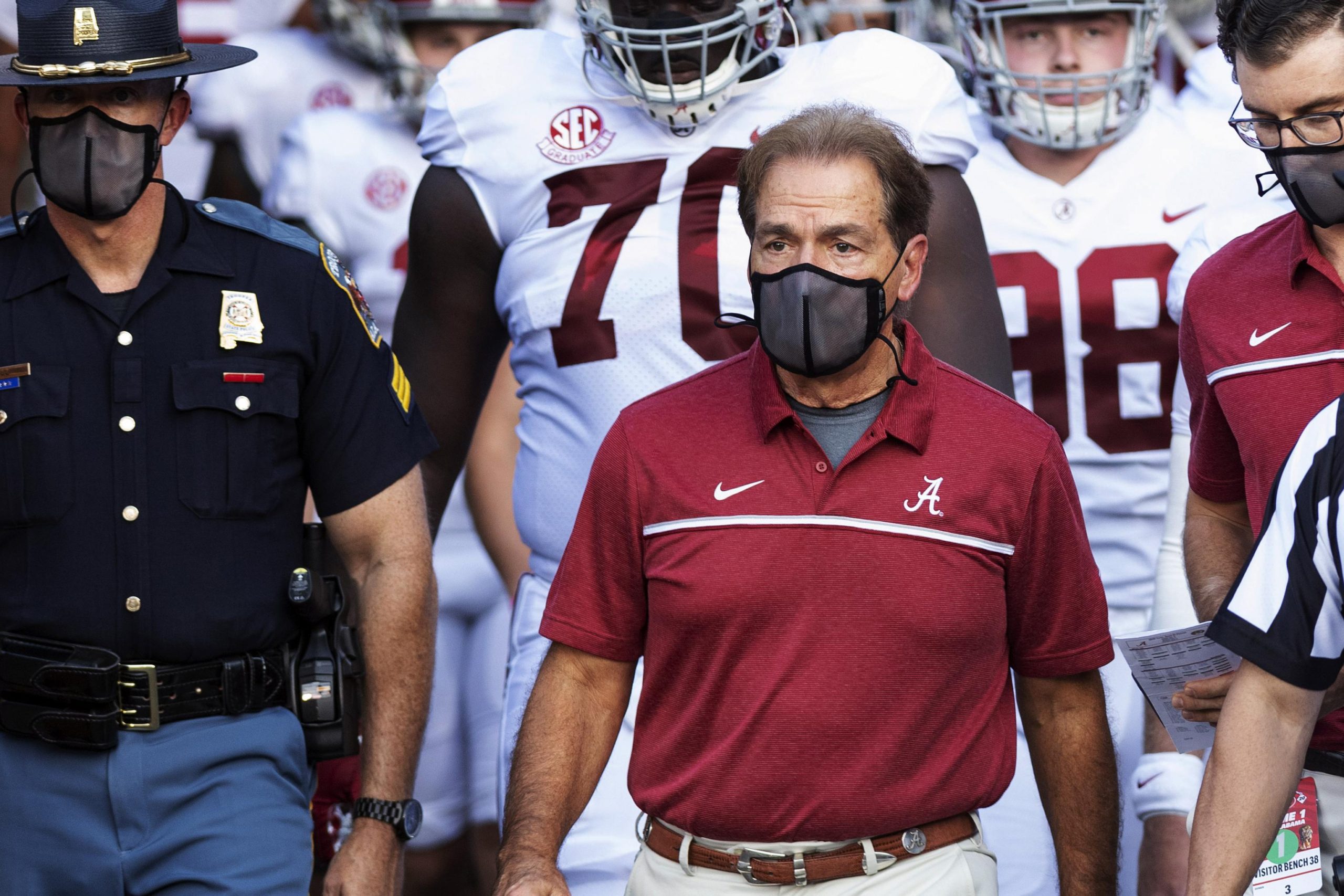 Alabama Crimson Tide (11-0, 8-3 ATS) vs. Notre Dame Fighting Irish (10-1, 5-6 ATS) FREE PICK
For the first time since World War II, the Rose Bowl will not be played in California instead moving to AT&T Stadium in Arlington, Texas. Top-ranked and unbeaten Alabama will take on No. 4 Notre Dame in the first of two national semifinal games that are part of the annual College Football Playoff.
The winner, of course, will play for the national championship on Monday, January 11. The loser goes home after one of the weirdest and most interesting college football seasons on record.
Alabama and Notre Dame met in 2012 for the BCS national championship. The Crimson Tide scored the first 35 points in a 42-14 pounding of the Fighting Irish. Is another beating in store for head coach Brian Kelly's team? It's possible, but bettors might want to focus elsewhere.
History
These are two of the greatest college football programs on record. Alabama is third all-time in wins with 916. Notre Dame is sixth with 908.
A national champion has been selected in each college football season since 1869 (except for 1871). Alabama has earned 22 national championships. Ironically, Notre Dame also has won 22 national titles.
Both teams will have the opportunity to win their 23rd, but must win on Friday to get that chance.
The QB Matchup
Most fans are probably already aware of the Trevor Lawrence-Justin Fields matchup in the other national semifinal. What many may not realize is that there is quite a quarterback matchup in the Rose Bowl.
Alabama's Mac Jones is a Heisman Trophy finalist. He leads the nation's No. 2 scoring team (49.7 ppg) and is completing a ridiculous 76.5 percent of his passes. You can sum up Jones' performance this season with his day in the SEC title game where he completely dismantled Florida.
Jones went 33-of-43 for 418 yards and five touchdown passes. He is calm, cool, and extremely efficient. Jones is surrounded by incredible talent (more on that in a moment) and, more importantly, hasn't lost this year.
On the other side, it's Notre Dame's Ian Book, who now ranks second in school history with 8,719 yards passing and 72 touchdowns. In terms of efficiency, Book is right there with Jones. The same goes for winning. In 34 games as the Notre Dame starting quarterback, Book is 30-4.
Elite Talent
There will be elite talent all over the field on Friday. The Irish have a road-grader offensive line and another future draft pick in TE Michael Mayer. Linebacker Jeremiah Owusu-Koramoah is a likely first-rounder that the Crimson Tide offense will have to be aware of on every play.
Alabama could have six first-round draft picks on this team. In addition to Jones, WR Devonta Smith (98 catches, 1,511 yards, 17 TDs) was just named the AP Player of the Year and is the favorite to win the Heisman Trophy.
Running back Najee Harris has rushed for over 1,200 yards and has scored 24 touchdowns. Wide receiver Jaylen Waddle, OL Alex Leatherwood, and CB Patrick Surtain are also potential first-round picks that will be on the field on Friday.
How It All Plays Out
In the grand scheme of things, Alabama's elite talent trumps that of Notre Dame. The Crimson Tide won all 11 of their games topping 50 points in six of them. The narrowest margin of victory was a 17-point win over No. 9 Georgia.
Remember, Alabama plays in the SEC and the Crimson Tide beat No. 5 Texas A&M 52-24, a then No. 22 Auburn 42-13, Georgia by 17, and No. 7 Florida in the SEC championship 52-46. Not that Notre Dame didn't beat anyone…
In comparison, Notre Dame's most impressive win was a 47-40 overtime victory over No. 2 Clemson, which played without starting quarterback Trevor Lawrence. The Irish, of course, lost the rematch with the Tigers in the ACC title game. Clemson won 34-10 with Lawrence under center.
Some bettors may wish to opt for the Over, which is listed at 65. Before the ACC championship, Notre Dame did average over 41 points a game in its previous six and we know that Alabama can score. The real play though is simply on the Crimson Tide to cover.
Alabama is 7-1 ATS in its last eight games. Yes, the line is -19.5, but the Tide covered six straight before the SEC championship. In each of those six games, the spread was 22 points or more. If there was one constant in college football in 2020, it was the dominance of Alabama.
COLLEGE FOOTBALL FREE PICK: ALABAMA -19.5
If you like this pick and want to have action on it, check out the top rated sportsbooks page. These outfits are the best of the best when it comes to taking sports bets and paying out winners.